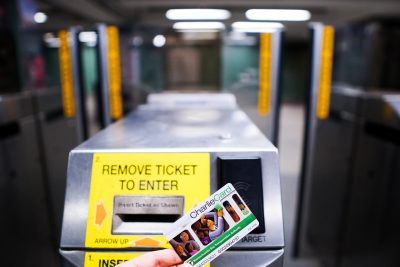 By Audrey Martin and Haley Lerner
The MBTA proposed a fare increase Monday of an average 6.3 percent per ride across all fares starting July 1.
The proposed increase is estimated to increase fare revenue by $32 million starting in 2020, estimating for ridership loss of 1.3 percent, according to the proposal.
For example, a subway ride that now costs $2.25 would increase to $2.40. A $1.70 bus ride will jump to $1.80, a monthly LinkPass will go from $84.50 to $90, and a 7-day LinkPass will go from $21.25 to $22.50.
The MBTA released a document Monday detailing the proposed increases on all Boston transit fares. There will not be a cost increase greater than 7 percent.
The proposal stated that revenue from the fare increases would go to improvements within the MBTA system, including new early-morning and late-night bus service for the Silver Line 3 and additional commuter rail service.
The increase will also maintain funding for vehicles for the paratransit service RIDE, the replacement of the the Red Line fleet and improvements to accessibility at bus stops and commuter rail stations.
Public meetings will be held throughout February to discuss the proposed increase, and riders can also submit comments about their feelings regarding the fare hike.
BU spokesperson Colin Riley wrote in an email that he believes the price increase might encourage students to purchase passes instead of single-use tickets.
"Students who purchase Semester T passes … receive an 11 percent discount already," Riley wrote. "I imagine that will remain in place as it provides an incentive for a single purchase rather than monthly or weekly purchases."
Hannah Joy, a sophomore in the College of Arts and Sciences, said she didn't think increasing fares would affect BU's campus much because of the prevalence of other transportation modes.
"I'm not a Boston native, but I know that a lot of the public transportation needs updating, and if that's how they can get updates, I think it's fair," she said. "[It might be harder] for those who commute, but for students on Comm. Ave., you have the BU shuttle."
Akshay Nagrani, also a sophomore in CAS, said that although he wasn't personally a fan of the increase, but understood its necessity.
"I wouldn't be a fan of that because I use the T pretty frequently," he said. "I guess it would be OK if it was going towards making it more efficient."
Derrell Walker, 30, of Dorchester, said he thinks the fair increases for monthly MBTA passes has been "exponential" over the years.
"I can see the growth going that fast," Walker said. "I'm a frequent rider of the T, so I know it does cost money if you don't have your monthly pass if you're going on a bus to a train back and forth all the time, so it does hit a lot of people's pockets."
Michael Crehan, 49, of Swampscott said he approves of the fare increases.
"Things need to go up," Crehan said. "They need money for the repairs. We all need to take the train regardless. It would be nicer if it was cheaper, but then again things need to be fixed."
Ivelisse Hidalgo, 51, of Roxbury, said while she thinks MBTA prices are already expensive, she also believes there are improvements needed for the T.
"I use the MBTA a lot," Hidalgo said. "Every day I say, 'Why don't they fix it?' It's old, old style, but the prices are high when you pay for the Charlie Card. It's expensive."