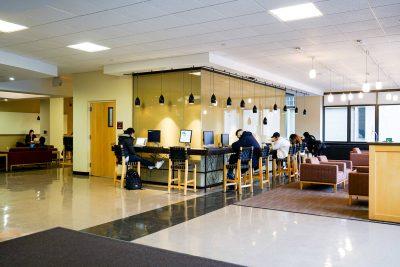 For most Boston University students, January means a return to classes, dorms, dining halls and all of the other aspects of campus life to which they learned to adapt during their first semester. Frantically searching for academic buildings, swiping Terrier cards backwards and misplacing dorm keys had become a thing of the past over the month-long intersession.
But for first year students participating in the College of General Studies Boston-London program, January marks an entrance into BU campus life, not a return.
And as CGS Dean Natalie McKnight said, starting in January as opposed to September with the rest of the freshman class can pose unique challenges to CGS students.
"I actually think the biggest challenge is weather," McKnight said. "I think this is a tough time of year to get yourself out of the house or the dorm."
Students enrolled in the CGS Boston-London program start their semester in January instead of September with the other BU Colleges. The fall semester is made up over the following summer in London, McKnight said, where they earn credits taking courses at the BU London Academic Center in South Kensington, London.
"After two semesters — January to the end of summer — they've got all the credits of a regular freshman, and they're ready to start their sophomore year right on time in September," McKnight said.
Move-in day for CGS freshmen occurred the weekend of Jan. 19 on a cold, rainy day, which McKnight said didn't help with student morale.
In order to foster a sense of community and ensure that students starting in January are able to connect with their peers, CGS has adopted a program that puts students in teams with fellow CGS students and professors. Teams meet regularly to do activities and check in on how students are doing.
"In most cases, students share the same faculty for two semesters, so students get to know one another well," McKnight said. "They get to know the faculty well, the faculty get to know them well, and they can be making connections among their course with us."
Despite the challenges of starting later in the year, the CGS Boston-London program has grown significantly since its launch with 75 students. Next year, McKnight said the program will admit a little more than 600 students.
"We started it out small," McKnight said, "and if it hadn't been successful after one or two years, if we weren't yielding and retaining students, and if students weren't satisfied, I don't think it would have grown like this."
Anders Larson, a freshman in CGS who started at BU two weeks ago, wrote in an email that the beginning of his semester has been one of "acclimation," and that the mandatory orientation over the weekend was helpful.
"BU put us through a weekend of Orientation events just before the semester started," he wrote, "which played out to be somewhat predictable and cliche (but there's nothing wrong with that). I did, however, get the opportunity to meet some great people with drastically different experiences than me, which I suppose was the point."
Larson wrote he is excited for his semester in London over the summer but was concerned about the newness of the program.
"I'm worried that they haven't hammered the curriculum into what they'd like it to be quite yet," he wrote. "On the other hand, that gives me the opportunity to have some input into the process."
Marisa Gregory, a CGS sophomore who started at BU last January, said she could remember the first few weeks of her semester being hard.
"It definitely is kind of difficult," Gregory said. "I know that in fall they have parades and all that stuff, but just because of the weather it's kind of hard to do that now."
Gregory said when she first came to BU, she struggled to find friends in her traditionally upperclassmen dorm.
"I lived in a brownstone on Bay State, and if I didn't have [one] friend it would have definitely been pretty lonely," Gregory said. "When you're in CGS Boston-London program, they kind of will just put you in housing wherever there's space because they can't fit everyone where most freshmen live."
Collin McCormick, also a sophomore in CGS who started last January, said that while he didn't have a hard time making friends in the college, finding students to connect with in other BU schools was difficult.
"The only real challenge is that by the time you get here, the only people that are doing the same things as you are, like looking for friend groups, are the people that are January-London kids," he said. "Everyone is friendly and will say, 'Hi,' to you and are happy to meet you, but the only people that are looking to be your friends are the people in your same boat."
McCormick said that although the majority of his friends are still CGS students, joining clubs and student organizations around campus was one way he was able to connect with more people.
"I met the majority of the people that I am very good friends with through activities and by going around trying to find people those first few weeks, from that hockey game and Rich Hall where I live," he said. "They had a new resident meeting, and I met one of my good friends there."
Natalie Patrick contributed reporting.