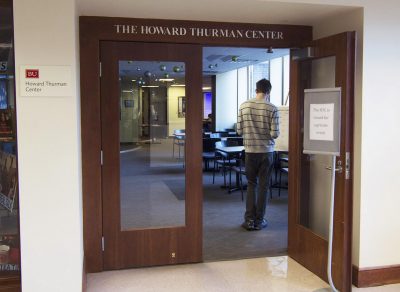 Boston University's Howard Thurman Center for Common Ground is in the process of moving from the basement of the George Sherman Union to a location just across the BU Bridge at the Peter Fuller Building, 808 Commonwealth Ave.
Pedro Falci, the associate director of the HTC, said the layout of the new location will include various open lounge-style spaces, as well as a space for "mindfulness" and several classrooms that will likely be used by other departments as a part of the BU Hub.
Falci said the building will be undergoing construction before opening in fall 2019.
"To enter the Thurman Center, you will have to enter the 808 building," he said. "They are going to create a new grand entrance for that building — currently the door is off to the side, on Essex Street, it's not actually on Comm. Ave."
Falci said there are plans to have a long hallway from Essex Street all the way to the Booth Theatre that would be adorned with artwork. In a nod to the history of the building, Falci said that the columns, ceiling and showroom floor will not be renovated during construction.
The construction will also include a staircase to the second floor that will double as a small library and sitting area for students to have conversations.
Falci added that the HTC is named after the former Dean of Marsh Chapel, Howard Thurman, whose philosophy of common ground and unity underscores the center's work.
"His big philosophies and writings are about creating communities where people can help each other thrive and can live together despite differences and can really get to a point where they respect the inherent dignity of another human being — no matter how different they might be," Falci said. "And so that's our foundational philosophy, which I think is why the institution is so eager to expand our resources. "
Falci also stressed that a larger space will allow the HTC to host programming more frequently, as well as increase the amount with which other departments on campus could collaborate with the center.
BU spokesperson Colin Riley wrote in an email that the HTC is being moved due to the program's expansion.
"We are expanding the staff and the center's physical space to a prominent location to accommodate a number of programs," Riley wrote. "It is a fitting tribute to Dr. Thurman and his legacy at BU, which is finding common ground among peoples and cultures."
Erin Tichenor, a senior in the College of Arts and Sciences, said the HTC has been a big influence on her time at BU and was happy that it was finally getting an expansion.
"I'm super excited for the new location," she said. "I spend a lot of time here, and I was just talking to someone about struggling to find the balance between having this environment to socialize and have really rich conversations with people, but then also having a safe haven to study in."
Tichenor said the current space was a little "constrained" by all of the events and students that currently use it. She also said that she thinks moving to the center of campus will give the HTC greater visibility.
"I'm excited for the move because it'll just provide us with more room for people to just sit in silence, to read, to have big discussions, to have classrooms so that more people come here that might not, and the visibility right by the BU bridge will be a good beacon of light for this campus," she said.
Helena Gill, a freshman in the College of Engineering, said that she believes the location change will make the center more accessible to more students.
"It's a really great opportunity to expand the space for more students to be involved with," she said. "At its current location, it's a little out of the way, and only those in the know really come down here exclusively."
Luke Daly, a senior in CAS, said he thinks a location change for the HTC is an important step in making it more of a focal point on campus.
"It's a really important part of the BU experience to go to the Howard Thurman Center," Daly said, "and experience and learn from the people that work there and run the center."