Gender and sexuality historian Andrew Lear exposes the rich and oftentimes scandalous side of art. Delving beyond the heterosexual male perspective that has dominated the art world since antiquity, Lear's "Gay Secrets of the MFA" tours show visitors the hidden homoerotica behind works at Boston's Museum of Fine Arts.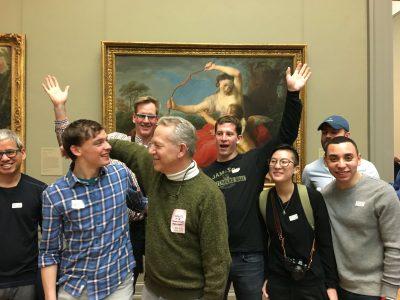 "Boston is known for its Puritanism, but somehow the Museum of Fine Arts never got the memo," according to the tour's Eventbrite page. "In art circles, it is well known that Boston's MFA has the world's greatest collection of LGBT-themed Classical Greek and Roman art. It is less well known that the MFA's collections are extraordinarily rich in LGBT art of other cultures as well."
Lear said almost every major museum is packed full of entertaining material and that his tours encourage attendees to look for the exciting backstory behind the art. Through the tour they can also pick out the messages and themes that are hidden in plain sight, he said.
"[The tour] is all about the fact that sexuality is something that is very subject to culture, and changes much more often than you would imagine," he said.
Lear introduced his sold-out tour Wednesday night to the history behind many artifacts — depictions of sexual bribery on Greek vases, John Singer Sargent's secret obsession with a male model and Paul Gauguin's depiction of a transgender youth.
Visitors may also discover "the god Priapus and what he did with his huge appendage, the sexiest Jesus of the Italian Renaissance" or "the male-male couple that were ancient Athens' Uncle Sam," according to the Eventbrite.
Lear's academic research focuses on the concepts of gender and sexuality in ancient Greek art and poetry. In 2014, he founded Oscar Wilde Tours, one of the first tour companies focused on LGBTQ history.
Lear has an extensive background in tour guiding. He started working as a tour guide in the summers before college and kept at it until graduate school. He started giving tours at New York's Metropolitan Museum of Art in September 2015, he said, and based them on the tours he had planned for his students.
Lear first gave a "Gay Secrets" tour at the Met in March 2015 for an LGBT Ivy League alumni group based in New York, he said.
"Like almost all of my tours, it was meant as a one-off," Lear said.
Though the tour was only meant to run once, he decided to continue it as it grew popular. Some time later, he said, the Harvard Alumni Association reached out and asked him to bring the tours to the MFA.
"The MFA called me in to a meeting to ask me about outreach to the gay community," Lear said. "They suggested that in addition to my tours, I could give a lecture … we could try to do a book about LGBT history of the MFA, we can create trails for the tours through the exhibitions."
Jon Simeon, of Cambridge, attended the tour and said Lear focused on the more subtle LGBTQ messages.
"[Lear] skipped over the more obviously homoerotic things, but he focused on anecdotes within history that might not be as prevalent or obvious to the viewer, which I appreciated," he said.
Troy Zhang, a graduate student in Boston University's School of Law, said he attended the tour through a friend's invite and wanted to go because he had never seen art through a queer perspective. He said he found the tour, and its guide, engaging.
"[Lear] is very friendly and managed to keep the content less like a boring lecture and more like a fun travel trip tour," Zhang said.