The New England Patriots were declared the winners of Super Bowl LIII shortly after 10 p.m. Sunday night. As soon as they were, celebrations erupted in the streets of Boston.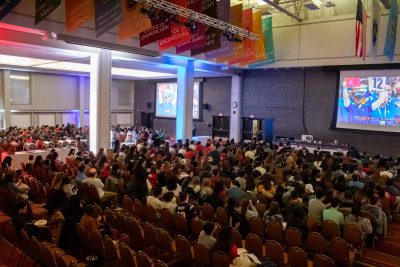 Boston University students dashed down Commonwealth Avenue in hoards, yelling and cheering with excitement. With the street blocked off, students hurried down the middle of the road to celebrate with the rest of the city.
Kenmore Square, a popular celebration area for students after the Red Sox won the World Series in October, was blocked off by a police barricade. Once students made it to the end of Commonwealth Avenue, some opted to take a detour down Silber Way to try and make it to a celebration.
Some students were decked out in Patriots helmets and face-paint while others went shirtless in the 37-degree February weather.
Police presence around BU included multiple cruisers and scores of officers positioned near the barricaded entrance to Kenmore Square. Officers on bicycles also rode down Commonwealth Avenue alongside the students rushing to celebrate.
Nisha Sweet, a freshman in the College of Arts and Sciences, said her night had been fun and that she was excited for more celebration.
College of Communication freshman Sarah Anwar was out with her friends and said this was the first Patriots' celebration in Boston she had been a part of.
"I'm from Massachusetts," Anwar said. "I have to stay loyal to the Pats. I'm always excited for them to win six rings. I was super excited when they won."
Tess Del Prado, a freshman in the CAS, also said she was a Patriots fan and that she was excited to be celebrating her team's win.
"We're very excited," she said about the friends she was with. "I've converted them."