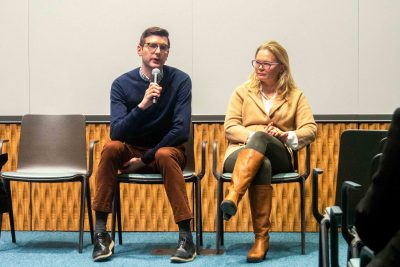 Chatter permeated throughout a room in the Center for Integrated Life Sciences and Engineering as people filed into their chairs and waited for panelists to take their seats and delve into dis
cussion regarding politics and public policy.
On the evening of Jan. 31, Boston University's Student Government hosted the second installment of their Academic Ask Me Anything Series, a monthly seminar that invites faculty, alumni and industry experts to speak about their careers and offer students a word of advice.
Thursday's panel centered around public policy and politics included alumni Sarah Sullivan, a former White House senior writer and analyst and founder of The New Data Project, and Casey DiCocco, a policy official within the U.S. Department of Health and Human Services.
Kaija Schilde, an assistant professor at the Pardee School of Global Studies who focuses on security and defense, joined Sullivan and DiCocco on the panel.
The trio started off by providing insight into the core areas of their jobs and projects they have worked on in the past. They shared anecdotes from their own college experience, and how that helped reach their current positions. Sullivan said her work includes technology, politics and research.
Previously, she worked as chief of staff of the U.S. Digital Service under President Barack Obama's administration, a position she left two years ago.
Sullivan is now the deputy executive director of The New Data Project, a non-profit organization she founded that aims to enhance technology infrastructure. The NDP created an app called "VoteWithMe" that allows users to see if their friends are eligible to vote in key elections and send voting reminders.
According to Sullivan, it was based on an idea that she called "relational organizing."
"It's basically getting your own friends out to vote, knowing that people you already know are the best trusted messenger," she said. "In a society where trust is declining or at least changing, having messages come from people you know is really important."
Part of the seminar was geared toward students. The panelists addressed the students specifically and shared personal experiences from their college days and the impact those had on them as they ventured into their careers.
"Get into something," Schilde said. "It doesn't matter what it is. We don't care that you're interested in 20 different things, start doing one of them. Nobody wants a generalist."
Schilde said there are four things she believed every student should leave college with: a solid list of contacts, a few valuable skills, evidence of your work and some kind of track.
Sullivan went on to stress the importance of participating in extracurriculars. She spoke about personal experiences and highlighted specific instances she learned from and how she was able to later apply it to her post-university jobs.
"All of my jobs after school have been most directly tied to something I did outside the classroom," she said.
For example, she said she used her experience writing for the Senate President of Massachusetts as an undergrad in Boston to get hired as a writer for Obama after graduation.
While at BU, Sullivan helped found and served as co-director of the Center for Gender Sexuality and Activism. She said she used that experience in organization-building later on to head the U.S. Digital Service and The New Data Project.
DiCocco recommended current students take one or two graduate level classes as an undergrad and said he grew from the experiences he gained from these classes.
"I took a bunch [of graduate courses], and it was great because I got to brush shoulders with grad students who really elevated the conversation," he said.
DiCocco said that a large part of his current work as a policy official within the executive branch of the federal government has to do with implementing the policies and laws that Congress passes. He said he had begun developing many of the skills he uses in his position during his time at college.
In addition, he said his job involves communicating and working with states, for example, helping them secure funds for national programs or navigating complicated federal regulations through technical assistance and consultations.
Schilde shared what it is like to work in the world of academia. Teaching is only part of the job, she said, and a large portion of her time is filled with research and "producing knowledge in the area of expertise."
"It's a wonderful experience because if you care about knowledge and truth, you get really close to how that's produced and being apart of it, she said.
In contrast, Sullivan noted that working within the federal bureaucracy meant disconnecting more from the truth.
"Truth has a really hard time getting to the top of the bureaucracy," she said. "You need to create some line of sight within the depths of the organization so that truth has a chance of coming up."
Schilde and Sullivan said they utilized the same advice they had given to reach their current titles and wanted to challenge and encourage students to take practical steps to take advantage of their time in school.
"Don't wait. Your life is happening right now," Sullivan said. "Don't think it all just happens the moment you graduate. Do the stuff you want to do now."