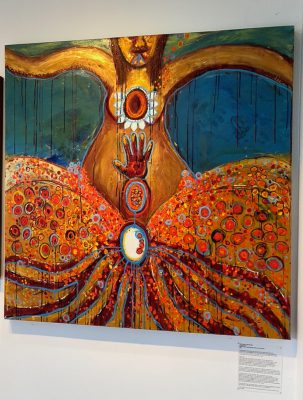 Artwork and canvases filled with colorful brushstrokes and intriguing moments hung in a quiet, sunlit room at Lesley University. Behind the aesthetics of these pieces are the struggles and experiences of three Native American women.
Lesley University opened the exhibit "Native American Resilience Through Art" Jan. 8 and will host it through Feb. 28. The exhibit features works by Michelle Napoli of the Federated Indians of Graton Rancheria, Kristen Wyman of the Natick Nipmuc Tribe of Massachusetts and Nia Holley of the Nipmuc Nation.
Isabelle Olsson, the coordinator of academic affairs and special programs at Lesley, said the exhibit is meant to spur conversations about Native American culture.
"It's something that doesn't always get talked about, so we really wanted to highlight the work of these artists and share their resiliency with the community," Olsson said.
Each artist used their pieces differently to express their own narratives of Native American resiliency and experiences with their heritage, communities and circumstances.
Napoli said her paintings each portray a different aspect of her life or heritage. Some canvases acknowledge the hardships and trials of her ancestors while others touch on her challenges being a woman.
The latter topic, she said, delves into her personal experience as a mother and a Native American woman brought up in modern-day American society.
Sara Rose Hernandez, a sophomore in Boston University's College of General Studies, said she thought that Native American culture was underrepresented in the United States as well as at BU.
"[Native American] culture is also probably the most appropriated because I don't think people understand it, and they don't really take the time to understand it," Hernandez said.
Wyman's art is based on relationships, according to her artist statement at the exhibit. She strung strings with wampums, small cylindrical beads which were often used as currency, according to an article by Indian Country Today. Wyman made her wampum using materials she personally harvested and shaped, paying tribute to the traditional use of the quahog shell, according to the statement.
Holley's work was made of traditional "medicinals," some of which the artist harvested herself.
"This work came to me at a time of loss," Holley said in her statement. "I had to imagine something past myself in order to begin healing to create these pieces."
Dan Benedetti, head of the Pickering Educational Resources Library at BU, said he believed Native American culture and history were underrepresented in today's society.
According to a report by Reclaiming Native Truth, a project partnered with the W.K. Kellogg Foundation to empower Native Americans, "While other communities of color have made progress in visibility and representation, Native narratives have not gained the same level of recognition in the United States."
Benedetti has helped coordinate the library's own display on Native American Heritage month, which takes place every November.
"One important thing to do when you're [making the display] is to highlight tribes instead of talking about them as a collective," Benedetti said. "We really tried to highlight that in our display."
In addition to dedicating time to their art, the artists featured in the exhibition are also involved in different administrative positions. Napoli, for example, is an adjunct faculty member at Lesley.
Olsson said she felt the exhibition represented native stories.
"It was really exciting for Lesley to get to take the work that's being done by some of the artists, particularly these three indigenous women artists," Olsson said, "and get to spread their words and narratives."