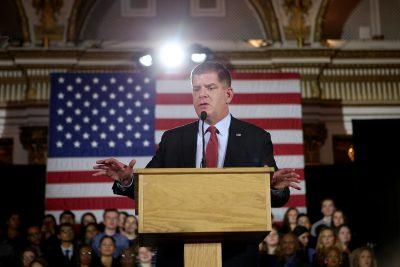 Boston Mayor Martin Walsh spoke at the Roxbury Center for Financial Empowerment on Jan. 30 to highlight free tax preparation services available to Boston's low and moderate-income residents who earn $55,000 or less per year.
The services will be provided through the Boston Tax Help Coalition, which is a branch of the mayor's Office of Financial Empowerment, and will be offered at more than 30 partner locations throughout the city, according to a press release from Walsh's office.
Walsh said in the release that the goal of the program is to help Bostonians and their families manage their finances.
"The free, IRS-certified tax services offered by the Boston Tax Help Coalition are an opportunity for hard-working Boston residents to save money," Walsh said. "I thank our dedicated volunteers who make these efforts possible, and encourage the thousands of residents who are eligible for these services to take advantage of them."
Last year, the Tax Help Coalition returned $24 million in credits and refunds to taxpayers by maximizing the Earned Income Tax Credit and helping taxpayers claim the full refunds they are due, according to the release.
Mimi Turchinetz, director of the coalition, said the organization serves residents by helping them identify safe, non-predatory banking services, providing credit-building services and offering financial check-ups at tax sites. The coalition serves about 13,000 people yearly.
"Although it has been a challenging year, recently with the government shutdown and the IRS being non-functioning, we have launched our tax campaign," Turchinetz said.
The financial check-ups are offered at 15 tax sites, an increase from the 12 sites available last year, and will allow Boston residents to meet one-on-one with a trained financial guide to go over their credit, according to a press release from the Tax Help Coalition.
People who attend the check-ups will be considered for eligibility to take part in homeownership preparation classes, which are funded by a $175,000 grant from the Wells Fargo Foundation's NeighborhoodLIFT program, according to the coalition's release.
Turchinetz said these workshops can give residents the opportunity to begin considering the possibility of homeownership in the near future.
"We will be working with potential home-buyers … to get them ready through building more credit," Turchinetz said. "People have the desire, but not really the capacity yet to even begin to think about what it would take to be a homeowner, so they need to get their credit scores up, so it's working with people at the very early stages."
Joe Nowicki, 30, of Fenway, said that he thought the services offered by the Boston Tax Help Coalition and its partners were beneficial to Boston residents.
"It makes available a resource for people who may not always have those resources," he said.
Back Bay resident Michael Wong, 46, said he thinks it's a good thing that the tax program could help Boston residents become homeowners.
"Home ownership for more people, I think, is beneficial for Boston neighborhoods, and neighborhoods in general," Wong said.