The biography of the Instagram account Fashion at Boston University describes the project in four words: "a street style series." Portraits of students in parks, museums and other urban settings fill the account and show off the subjects' personal style.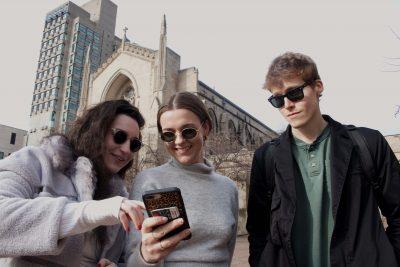 The biography lists the account handles of the BU Fashion Retail Association and two out of the account's three founders, Emilie Hibbard and Meghan Cronin.
Fashion at BU is a showcase of what students are wearing, Hibbard said.
"Just the street style, nothing crazy that's 'hype beast' or 'high end' — just somewhere in between," she said. "An accessible day-to-day fashion."
Cronin started the account two semesters ago in the spring of 2018, but she said it was revamped during the Fall 2018 semester through funding and support from the Fashion and Retail Association at BU.
The association brought the Instagram account under its wing for branding purposes as a series to expand its name across campus, Hibbard said, who works on the e-board for the association.
"I wanted to do something more creative and have it be about the person that we're shooting, rather than just '10 cool outfits we saw on today,'" Hibbard said.
The Fashion at BU team consists of Cronin, Hibbard and Luc Belder, who are all sophomores in the College of General Studies. Cronin said she is the resident photographer for the series, while Hibbard and Belder focus on recruiting, networking and marketing.
"We rebranded it as a team together so that it would be more accessible to everyone," Cronin said.
The Instagram account features students that Cronin described as expressing themselves through a creative sense of style.
"It's not your frat boys," Belder said.
To curate each post, the team photographs the featured student in varying locations around Boston. Additionally, Hibbard interviews each subject about their personal style to serve as a caption for the post, she said.
"Because it's people who we specifically choose to feature, they feel more excited about it, rather than just the original concept of stopping someone on the street," Cronin said. "It's someone who actually wants to be featured, who is really into it. I thought it would be a fun thing to start, I think that's really why I [started it]."
Belder said that Cronin and Hibbard came to him with their rebranded idea for Fashion at BU and immediately thought that the concept had potential.
"You have the YouTubers who have series like, 'How much is your outfit worth,' so Fashion at BU is a mix with that, and I feel like this is more of a 'Humans of New York' type of thing," Belder said. "It's about [the feature] and you can get to know them through their style."
Cronin, Hibbard and Belder all said that they would like to see the account grow, whether through hiring interns, word of mouth or a meetup with all of the people the account has featured.
"It's still in its infancy, but it's definitely growing, and I think we all plan to do it in the upcoming semesters," Cronin said. "We still really want to try to grow it more because it's a baby right now. But it's an important one."
Talia Adler, a sophomore in the College of Fine Arts, was featured on the Fashion at BU account in November. She was photographed by Cronin at the Museum of Fine Arts and interviewed by Hibbard about her personal style and daily style inspirations.
"We were there for about an hour, and we just went around to a bunch of different rooms and they told me where they wanted to shoot me," Adler said. "And they told me to have fun. They were really cooperative, and it was a really, really positive and fun experience."
Adler describes her style as "eclectic," and said that she believes that fashion is a vital part of the culture on the BU campus.
"You step out on Comm. Ave., and everybody sees you," Adler said. "That's a huge reason why I really love BU — because there are so many people who are interested in fashion, and I think it comes with the fact that it's a city school. There's definitely the fashion culture."
Fashion at BU aims to highlight the "fashion culture" on campus, Cronin said, but she does not believe that the student body is naturally as creative when it comes to style.
"BU is business-heavy, and I think that it's not naturally as creative-heavy even though we have a great communications school and CFA," Cronin said. "The whole point of Fashion at BU is to kind of fill a void that hasn't been there before."