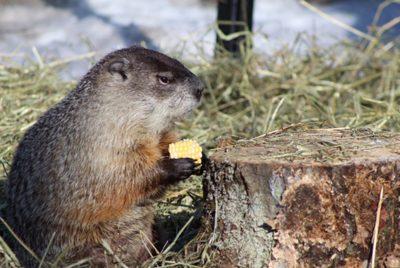 Don't pack up down jackets or wool sweaters just yet, because Massachusetts should anticipate an additional six weeks of winter this year. At least, that's according to a prediction by Ms. G, the state's official groundhog.
Michael O'Connor, a spokesperson for Mass Audubon, said Ms. G saw her shadow Saturday — Groundhog Day — and predicted that spring was still a month-and-a-half away in Lincoln.
"We think she is incredibly accurate," O'Connor said. "Sometimes there will be other groundhogs in other parts of the country that will have their own prognostications, but we think hers is genuinely counted to be spot on."
Ms. G's Pennsylvania counterpart, Punxsutawney Phil, also surfaced to pomp and circumstance Saturday. Phil predicted the opposite — that winter was ending and spring was soon to come, according to CNN.
Renata Pomponi, the director of Drumlin Farm, said in a press release that the Groundhog Day festivities are a part of the Drumlin Sanctuary's Climate Action Day. The program aims to educate families about the effects of climate change.
"Climate Action Day is intended to be a way for families to engage with a serious issue in a positive way," Pomponi said in the release, "focusing on the small but meaningful actions that they can take in their own lives to help meet this challenge."Pomponi said Ms. G plays an important role in raising awareness for protecting the homes of both her and her fellow animals.
"As the Commonwealth's most prominent wildlife ambassador, Ms. G serves as a symbol of the animals and their habitat that we all can help to protect by working together in our communities," Pomponi said.
O'Connor said Ms. G was particularly useful for illustrating the damaging effects of climate change, as families and young children are able to connect with nature through the groundhog while learning how the changing environment is affecting her behavior.
"[Climate change is] going to affect a lot of animals, including the kind of animals which hibernate for part of their life cycles each year," O'Connor said. "… We are using education animals such as Ms. G to help educate people and engage people on the importance of taking action against climate change."
In addition to Ms. G's prediction, the event boasted winter activities such as wilderness hikes, visits with wildlife, a live musical performance and hot cocoa. Visitors were also able to purchase products grown locally at the Drumlin farm, all the while learning about the effects of climate change, according to the release.
The event was funded in part by a grant from Lincoln Cultural Council, which is in turn supported by the Mass Cultural Council, according to the release.
Michael Stameris, 53, of Brookline, said while he does not believe that groundhogs' weather predictions are accurate, he can appreciate the fun that families get when engaging in the festivities.
"I think they have a good time doing it," Stameris said. "They wait for the groundhog to come out and whether he sees his shadow or not, I don't think there is a science behind it, so I think it's just for a good play that they have some fun and hope for some warm weather."
Everett resident John Castillo, 25, said while he doubts the accuracy of Ms. G and her counterparts, he sees nothing wrong with the annual tradition.
"Everybody's been following them, and everybody believes in them, so why not?" Castillo said. "They're cool because they give people a motive, and if some people really believe it and like it, people can continue doing it."