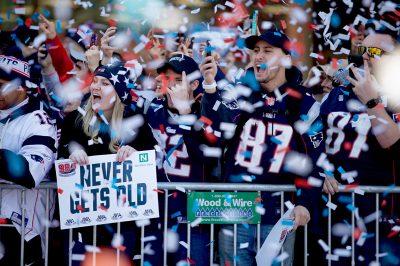 It's been a long three months of waiting, but after Sunday's Super Bowl LIII, the New England Patriots gave Bostonians just what they are used to — a victory.
People and dogs adorned in Tom Brady and Julian Edelman jerseys crowded the streets of Downtown Boston Tuesday, alongside hundreds of thousands of other Patriots fans celebrating the team's sixth Super Bowl victory.
According to Boston Police officer James Kenneally, it was the "largest crowd to ever attend a championship parade."
Duck boats and fire trucks filled with players, staff and sponsors began their route around 11 a.m. from Hynes Convention Center to the Boston Common to a finish in front of City Hall.
Parade veterans and newcomers alike pumped their foam fingers and danced as DJ Khaled's "All I Do Is Win" played. Red, white and blue confetti filled the air.
Ryan Mckeown, 21, of Franklin, said he is an avid fan of Boston festivities, having been to the Boston Marathon and the St. Patrick's Day parades in the past.
"I have not been to a Patriots parade before," Mckeown said. "It's an exciting day — I mean I work full time at this point, but I get to take it off and hangout with my friends."
Kathy Shaw, 56, of Back Bay, said she and her husband have lived in Massachusetts for a while, and despite being die-hard fans, this is only the first victory parade they have attended as they recently moved to Boston.
"We have season tickets, so we love the Patriots," she said. "We go to all the games."
Boston University students, such as Nora Jerrett, 19, a student in the College of Communication, also made their way downtown to cheer on the hometown heroes.
"It's exciting to see a bunch of people from like everywhere that go [to BU] get excited about it, too," Jerrett said. "It's nice to see the energy all over campus."
College of General Studies student Amanda Forssell, 19 is originally from Finland and said she was excited to be "doing the whole American thing" with her friends.
Fans held signs that read "Never Gets Old" as they chanted "we want seven" and "Brady! Brady!  Brady!"
All six Vince Lombardi trophies were brought out and held by people including Patriots coach Bill Belichick, who was in the parade with his family.
Neel Chattopadhyay and Charlie Maws, both 10-year-old Cambridge residents, said they like to attend parades together. Maws said they went to the Red Sox parade in October and the Patriots parade a couple years ago.
"It was really cool when everybody like erupted when Brady came across," Chattopadhyay said.
Rob Gronkowski was part of the parade, dancing shirtless and sipping wine.
While several players covered their fingers in super bowl rings, Patriots owner Robert Kraft sported a different kind of bling –– a necklace that read "championships."
Stephen Provost, 59, of Dover-Foxcroft, Maine, said he has been a fan for a long time but that the timing to come out to Boston for a parade was never right.
"I had a bunch of kids," Provost said. "Now all my kids are gone, and I can enjoy myself a little more."
Evan Sheehan, 22, of Attleboro, said this year was the third victory parade he had attended.
"I'm a die hard Pats fan," Sheehan said. "I think Brady is the greatest of all time. We're so lucky to have a guy like Brady to lead the Pats to six Super Bowl titles, it's the best."