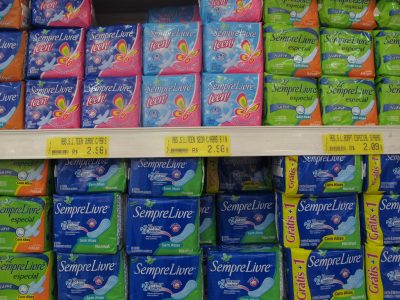 Distribution of free menstrual products in bathrooms on Boston University's campus will begin this semester after a nearly three-year long effort by two BU Student Government senators.
The initiative, created by senators Hayley Gambone and Nehemiah Dureus, earned preliminary support from Senate in October. The $7,000 proposal was passed as a semester-long pilot program in December.
According to the proposal, there will be 15 baskets in 15 different locations on campus. Each basket will contain 100 tampons and 50 pads, each restocked weekly. On Tuesday, senators began making posts on social media asking for student volunteers to restock the pads and tampons.
The current program will only last through the spring semester and will act as a trial run to test whether the program is useful and sustainable.
Gambone wrote in an email that the process to actualize their plans was lengthy due to the amount of approval she and Dureus needed to obtain from campus officials.
"We in Student Government work with Facilities Management & Planning, the BU Dean of Students Office, the Deans of each individual college, and more, to make sure this project is effective and completely thought through," Gambone wrote. "This takes time."
Dureus wrote in an email that his plan originated three years ago after speaking to two women about the lack of accessible menstrual products in women's bathrooms.
"They told me that there were dispensers there that were [supposed] to house menstrual products, but they were empty, broken, and locked behind a paywall," he wrote. "It was a quality of life issue that seemed perfect for something like student government to solve. And I was/am determined to solve it."
Dureus wrote that a "reluctant Eboard and stagnant senate" caused the plans to be delayed until recently when he and Gambone teamed up last summer to get their initiative passed.
Dureus wrote that he was overjoyed with the initiative finally being implemented this semester.
"One of the reasons I joined, and stayed, in student government is because I wanted to solve problems people had but didn't know how to fix," Dureus wrote. "You have to have someone looking out for the best interest of the students, a group that is willing to go out of their way to fix these issues, and I believe that student government is designed for that purpose."
Senate chair Andrew Chaio said that Gambone and Dureus's hard work and attention to detail was what earned them the support they needed from the rest of the student government.
"They tried to work with the university on this," Chiao said, "including not just the reasoning why the free menstrual product initiative is so important, but also the research into cost into locations where they would push the pilot program out."
Chiao said that there has been work done on similar programs at BU for years, involving many groups and various plans. But ultimately, he said, it was an issue of funding — which SG was able to provide.
"People have been working on this for a long time, before I was a senior or a freshman," Chiao said, "and the efforts they put into trying to bring this to the university's attention should not be forgotten. They worked really hard."
Chiao said he believes that the university should help SG pay for the menstrual products, considering that the school already provides free condoms.  
"Providing an essential product should be taken up by a university who houses students that have those needs for those products," Chiao said. "They're essential, and it should not fall to a student government to provide them."
Nessa Foxe, a sophomore in the College of Arts and Sciences, said that although she thinks the plan is possible, it puts a lot of work on SG.
"That is taking on a lot of responsibility," Foxe said. "If it doesn't end up happening, Student Government pays out of pocket for it."
Morgan Webb, a CAS junior, said that because menstrual products are a necessity for some students, the school should be providing them.
"It's just so annoying," she said. "We know that menstrual products are so expensive, and I feel with this it's something that obviously we can't help to have. I just think that it's important that the university is really supporting that."
Kyler Sumter, a junior in the College of Communication, said that she thinks if Student Government were to show the university that students are using the program, the university would help finance it in the future.
"I'm sure [if] the student government has shown, 'Hey, we paid for this ourselves, and we actually ran out of products, like everybody has actually been using them,'" Sumter said, "it will probably prompt BU to say this is something we can fund, and they definitely have the money to fund it."