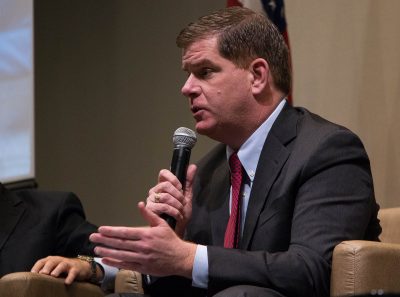 Boston Mayor Martin Walsh announced Saturday that an additional Neighborhood Trauma Team, which serves individuals and families impacted by community violence, will be available to residents of Grove Hall, an area comprised of parts of Roxbury and Dorchester.
Project RIGHT Inc. and Harvard Street Neighborhood Health Center will partner with the Boston Public Health Commission in the community outreach initiative.
The City invested an additional $284,000 to continually grow the citywide network, totaling $1,284,000 over the past three years, according to a press release from the BPHC, the city's health department.
The BPHC serves as the managing agency of teams co-led by a community health center and a community partner. Other neighborhood trauma teams are based in Dorchester, Roxbury, Jamaica Plain, East Boston and Mattapan.
The City's Trauma Teams offer services including support hotlines, community events, referrals to behavioral health services, trauma education and community outreach.
Emmanuel Tikili, program director of Project RIGHT, said Grove Hall has the highest youth population and the largest clusters of schools in the city, and thus needs more aid in terms of mental health.
Ed Gaskin, executive director of Greater Grove Hall Main Streets, a public‑private initiative of the City that advocates for economic development in the Greater Grove Hall area, wrote in an email that the organization is supportive of Walsh's announcement.
"We applaud the mayor's efforts to bring healing to the community to those who have been and will be the victims of trauma, because the residents of Grove Hall are its most important assets," Gaskin wrote.
Gaskin wrote that people have access to mental health care at companies that provide employee support services. His organization is "part of the comprehensive plan" to spread the word to businesses about the new services offered by Harvard Street.
"In terms of need," Gaskin wrote, "if you look at the public safety statistics, you will see that  Blue Hill Ave is the 'spine' of the gun violence area."
The Boston Police Department continually identifies Grove Hall as a "hot-spot," Gaskin wrote,  due to its disproportionately high concentrations of violent, firearm and drug crimes and has a significant number residents who were previously convicted.
Funding for the Trauma Teams is provided through City finances and grants from Boston Children's Hospital and Partners HealthCare System, according to the BPHC press release.
Tikili said that funding will be allocated toward resources and to appoint management and coordinate the multiple agencies.
"One of the things that Project RIGHT is doing in this process is galvanizing as many community partners and residents as possible to be involved in this process," Tikili said.
Tikili said Harvard Street provides the clinical aid to trauma victims while Project RIGHT matches resources to community members in a collaborative approach. Services include mental health aid, food for families, spiritual counseling and gift cards from Project RIGHT's business partners, Tikili said.
Daniel Aldrich, a professor of political science, public policy and urban affairs at Northeastern University, said that specific areas need additional support for trauma victims because of a significant lack of essential socio-economic resources.
"The challenges that Boston neighborhoods face really depend on where you are," Aldrich said.
Aldrich said that Mattapan, Dorchester and Roxbury have especially lower-performing and under-funded schools that are segregated, less responsive policing and lower-quality infrastructure. When social and economic inequality is coupled with high levels of violence, Aldrich said that this creates what he calls a "double jeopardy."
"Beyond lower infrastructure and poor response times in the city, we often see these areas having, for example, high levels of violence, gang violence, drugs and arrests," Aldrich said.
Aldrich said that the initiative strongly aligns with government programs created before through the Mayor's Office of Resilience and Racial Equity, ensuring equal opportunity regardless of age and race.
"These kind of programs help to build up the safety net we have for these citizens," Aldrich said.
No social worker or police officer alone can handle everything from drugs to domestic abuse to gang violence, Aldrich said, because an arrest is not a simple solution compared to vocational training, a high school diploma or the family unit and requires extra support.
"The Boston trauma response team is precisely a broader, full-time, year-round network," Aldrich said, "to help these areas that we know are under-serviced and ones that have problems to find a longer-term solution."
In order to ensure that every Boston resident had an equal opportunity to succeed, Aldrich said lawmakers and the government needed to take an active role in communicating and working closely with less affluent neighborhoods.
"It's the responsibility of the government to do what's best, to provide a level playing field," Aldrich said. "… These communities, again, Mattapan, Roxbury, Dorchester are precisely where the government has not been responsive to local needs."
Eliza Gagnon, 56, of Chelsea, said she grew up in the Greater Boston area and that while crime has decreased since her childhood, violence is still a problem in various Boston neighborhoods.
"In the '70s and '80s, there was probably more [violence], so sure, there is violence and crime in certain neighborhoods," Gagnon said. "… I think Roxbury, Dorchester. It seems like there's crazy stuff happening all over the place lately."
Tikili said the Neighborhood Trauma Team Network is holding a series of Share-Outs and Listening Sessions across Boston in February and March, which will include dinner and a $25 gift card will be given to the first 25 residents.
"It's really about making sure that people are heard, and we're listening to what the needs are for our residents and what they're going through, having spaces for healing," Tikili said. "So often, when people say they're hurt and they have a safe place to think and process, that's the beginning of healing."