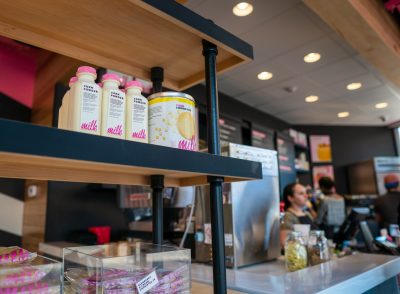 The Crack Pie at Milk Bar is about as addictive as it sounds, with an oat cookie crust and custard filling. But unfortunately, if you are looking for a small, local bakery, Milk Bar is not it.
Milk Bar delivers dessert in creative and interesting ways, yet fails to bring the warmth and comfort a local bakery can.
Since 2008, when Milk Bar first opened in the East Village of New York City, the bakery has expanded with locations in New York, Washington, D.C., Toronto, Las Vegas, Los Angeles and now, Cambridge.
Since the opening of the Cambridge storefront in Harvard Square on Feb. 2, sweet-tooths from around New England have waited in freezing temperatures for a taste of Cereal Milk Soft Serve and the other treats Milk Bar serves up.
According to Milk Bar's website, the bakery is "known for coloring outside the lines and turning dessert on its head."
The main issue with "turning dessert on its head," though, is that when someone is craving pie, cookies or cake, they usually expect them to be fresh-baked or warm if they are buying the product straight from the bakery.
The menu features a creative list of baked goods you have likely never heard of before, such as the aforementioned Crack Pie and Cereal Milk Soft Serve, Compost Cookies, Milkquakes and Cake Truffles.
However, your Crack Pie, $6, and Cake Truffles, $6, are all served in plastic packaging straight from a refrigerator — not an oven. The single fact that Milk Bar serves pie in pre-sliced, plastic-wrapped packaging takes away from the otherwise addictive and delicious product inside.
The main staple on the menu, however, is the non-plastic-packed Cereal Milk Soft Serve, which is creamy, satisfying and very sweet.
The Cereal Milk flavored ice cream is topped with corn flakes for extra crunch and will cost you $5.50, an expensive treat compared to most other soft serve ice creams and frozen yogurt establishments.
The last thing I tasted at Milk Bar was the Cake Truffles, which are basically crumbs and pieces of leftover cake rolled together into a truffle.
The first thing I noticed about the truffles was their chewy, dry texture. The second thing I wondered is why anyone would prefer this to a slice of cake. Milk Bar is possibly the smartest bakery I know, given that they make customers believe they should spend $6 on pieces of leftover cake. But the execution and taste of the truffles is incredibly lacking.
The most upsetting thing about Milk Bar, in my opinion, is that customers are unable to purchase slices of cake.
Whole cakes are for sale — if you are willing to spend at least $29 on a mini cake that is slightly larger than a cupcake — but for customers craving a slice, this is not the bakery for you.
When I visited the bakery Saturday, I was amazed to find an hour-long line just to get ice cream in the cold. What was even more shocking to me was the number of college students willing to spend upwards of $6 on dessert.
Milk Bar's true genius is all based on hype. Word spreads about the interesting ice cream, cake and cookie concoctions, and people have to try the next best thing.
For some of the people waiting in line with me Saturday, Milk Bar was something they had heard about or seen on social media and felt they needed to try for themselves to see what all the fuss was about.
One customer said she thought Milk Bar's concept to serve ice cream with cereal was silly, yet was dragged along with her friends to wait in line.
Without a doubt, the neon pink "Milk" sign that hangs in every Milk Bar store has been on many social media feeds multiple times in the past few months. During the hour I waited in line, I saw dozens of people pose in front of the sign and hold out their sweet treats for a photo.
They came, they saw, they posted, and they tasted.
Maybe it is just a friend posting about the overpriced ice cream, or a food account gushing about the Crack Pie — but either way, the hype of Milk Bar is definitely real.
It is a bakery on most people's to-try lists, but not one most would return time and again to. I know I wouldn't.