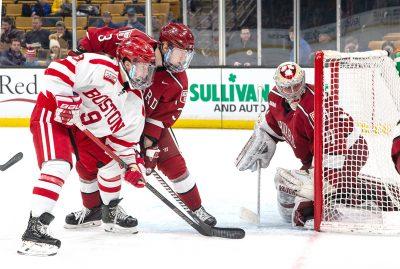 The Boston University men's hockey team is far from the top of the Hockey East conference and currently ranked at No. 7.
The Terriers (10-14-3, 8-7-2 Hockey East) have had a difficult four-game stretch as of late, losing twice to the No. 2 University of Massachusetts and both Northeastern University and Harvard University in the Beanpot.
Monday's 5-2 loss to Harvard (13-7-3, 9-5-2 ECAC) saw the Terriers finish last in the Beanpot. It was the team's first time losing in both the tournament semifinal and consolation round since the 2013-14 season.
"[Harvard] were more competitive," BU head coach Albie O'Connell said of the Crimson. "They were skating harder."
Harvard attempted 76 shots in Monday's consolation match, including 39 on target. The Terriers could not match their opponent's offensive output, though, tallying 42 shots of their own with 26 on frame.
"They had more of a care factor," O'Connell said. "They were skating harder, … and we were hoping that it was going to be easy."
Mired in a five-game losing slump after the Beanpot, the Terriers will face the University of Connecticut this weekend. UConn (9-17-2, 4-12-2 Hockey East) sits three places below the Terriers in the Hockey East rankings at 10th.
After defeating Arizona State 4-2 on Jan. 25, BU was 10-9-3 and inching closer to the USCHO top 20 rankings. The Terriers suffered a shutout loss to the Sun Devils the following night, however, and the slide ensued.
BU will bus down to Hartford, Connecticut, for Friday night's contest before hosting the Huskies Saturday night at Agganis Arena. After this weekend, the Terriers will have just one home game left in the regular season.
This weekend is an opportunity for BU to begin its climb back up the ranks in the college hockey landscape. The Terriers have had success against this UConn team before, beating them 3-2 in the Friendship Four in November.
In that game, BU fell behind 1-0 and 2-1 before goals by sophomore forwards Logan Cockerill and Ty Amonte lifted them to a victory.
Junior forward Patrick Curry also scored in that tilt. That game was part of a seven-game losing streak for the Huskies that put them in a deep hole before 2019 began.
UConn recently endured a six-game winless streak from Jan. 12 to Feb. 1, but the group's record has improved as of late.
The Huskies have won their last two games, including a 3-2 upset win over Northeastern Thursday. Forward Karl El-Mir assisted on each of his unit's goals in the triumph, adding to his team-high of 25 points.
The Montreal native has used his teammates to compile points this year, scoring 12 times and assisting on 13 goals. Against the Terriers in Northern Ireland, he garnered a goal and an assist.
BU also has to worry about fellow Montrealer Alexander Payusov. The forward leads the Huskies with 14 goals and has four assists. Payusov has scored twice in a game on three occasions this year, including a pair of goals in contests against conference foes University of Maine and University of New Hampshire.