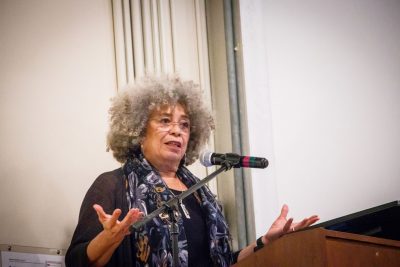 Boston University's Jacob Sleeper Auditorium thundered with laughs, snaps and cheers as renowned activist Angela Davis spoke about the marginalization of women of color Saturday night. The talk provoked a range of emotions from the packed crowd.
Davis spoke on the subjects of violence against women, institutionalized racism, prison abolition and the importance of intersectionality.
The lecture, titled "Violence Against Women and Its Ongoing Challenge to Racism," was presented by the BU Undergraduate Sociology Association and followed by a Q&A session.
College of Arts and Sciences senior Nkemdirim Ogbogu was one of the few who was able to ask a question to Davis during the Q&A session, an experience that she described as unreal.
"I was really nervous — I didn't know that the mic had to be exactly at your mouth," Ogbogu said. "It felt crazy that my question got picked and that I could actually address her and look her in the eye. She actually gave me eye contact, and I thought that was wild."
Davis was introduced by Saida Grundy, an assistant professor of sociology and African American studies. Grundy spoke about Davis' childhood in Birmingham, Alabama, which was marked by the 16th Street Baptist Church bombing that killed four young African American girls.
"When you are a daughter of violence, your heart is so filled with a yearning to right the wrong," Grundy said during the introduction. "[Angela Davis] is living evidence that those daughters of violence emerge as mothers of the movement."
Davis began her talk by discussing institutionalized violence and emphasizing the maintenance of hope in a world full of violence.
"All of these models of violence are linked to institutional and ideological structures," Davis said in the talk. "We need to think about ways to talk about these violences in ways that do not assume their permanence."
Davis' visit to Boston University coincided with African American History Month, which spans the month of February.
"Through black history, we learn the best history of the United States of America," Davis said.
Davis later reminisced on some of her first memories of segregation and of violence during her childhood in Birmingham. She and her childhood friends would play a game that consisted of daring each other to cross the street or run up to a porch in the "white side" of a segregated neighborhood, and then run back to safety.
To Davis, those moments were more than games. She said they were moments of resistance.
Event organizer and BUUSA President Claire Lawry said she has been working on this talk since October, but began to put the wheels into motion around June.
"I wanted to bring someone such as Angela Davis because I feel like BU students have a lot of discussions, but it never really leaves the classroom — it never really leaves BU campus," Lawry said. "I wanted to bring someone that I thought would really inspire us, make us think, inspire us to get outside the classroom. The first person that came to mind was Angela Davis."
Lawry, a senior in the College of Arts and Sciences, shared that she dedicated a large amount of her senior year to bringing Davis to BU.
The talk was originally advertised as being open to the public but later, due to space constraints, BUUSA allowed only BU students to attend. The Daily Free Press reported Monday that Boston residents who had purchased tickets in advance were upset by this decision.
Throughout the evening, Davis questioned the universality of whiteness, especially in relationship to women of color and the #MeToo movement. She spoke about the genealogy of the movement, reminding the audience that a black woman, Tarana Burke, coined the term for the movement but that it was made popularized by white actress Alyssa Milano.
"My questions are about the connections we make," Davis said in the talk. "Why are black women's experiences only considered to relate to black women?"
Along with women empowerment, Davis has been a vocal advocate for prison abolition throughout her decades of activism.
"You end up generating more violence by assuming that the perpetrator has to go to prison," Davis said. "It's always been a way to deposit the issues that we don't really want to think about."
Davis concluded her thoughts by addressing the Birmingham Civil Rights Institute's decision to rescind the Fred Shuttlesworth Human Rights Award they had previously bestowed to her after determining that she did not meet the required criteria of the reward.
"I ask myself how I keep being at the center of these controversies," Davis said in the talk. "All I did was say, 'I'll happily accept this human rights award.'" The award was later given back to Davis.
One audience member, Claudia Benincasa, co-founder of the BU chapter of the Young Democratic Socialists club, said she was very impressed by Davis' remarks.
"It was exciting to have someone a little more revolutionary [on campus]," Benincasa said. "Someone who would name specific evils and call for abolition and say that reform isn't enough."