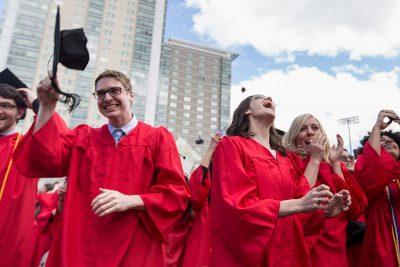 The Wheelock College of Education and Human Development is, according to recent figures, the only college at Boston University that requires seniors have a 4.0 GPA to graduate summa cum laude, the highest latin graduation honor.
Among eight other degree-granting colleges at BU, the minimum GPA required for the summa cum laude honor falls between 3.76 and 3.93. Wheelock's 4.0 requirement is new for the graduating class of 2019 — the first class of students to graduate from the merged Wheelock College and BU School of Education.
For the SED graduating classes of May 2018, September 2018 and January 2019, the summa cum laude minimum was a 3.86.
BU amended its latin honors policy at the end of 2002 so that a student must be in the top 5 percent of their graduating class to qualify for summa cum laude. According to the figures, Wheelock's 4.0 requirement will be in place for the graduating classes of May 2019, September 2019 and January 2020.
Stephen Roeder, an administrative assistant to Wheelock's Dean ad interim, wrote in an email that WED itself does not determine the honors policy requirement and that it is instead determined by the university at large.
CAS freshman Tayyaba Ishtiaq is involved with Student Government and leading an initiative to investigate grade deflation at BU. She wrote in an email that SG is working on a "General Review of Academic Development and Environment" survey to better understand academic life at BU.
Ishtiaq said the new report could help BU students better understand where their GPAs are coming from.
"We believe that our G.R.A.D.E. Report will help evoke this change and response from the administration because we will be providing direct action items which will not only help students, but are tied to the goals of the University," she wrote.
Ishtiaq added that she thinks there would need to be more data available to conclude whether or not the new GPA requirement for WED students will unfairly favor either former Wheelock or former SED students.
Kristen Lumley, a senior in WED who came to BU in the merger, said that she finds the one course she has taken at BU to be slightly more rigorous than the courses she took at Wheelock but still finds the work manageable.
"I don't think this change favors Wheelock or BU students," Lumley said. "A 4.0 is attainable if you're willing to put in the extra effort for it."
Hailee Markunas, also a WED senior originally from Wheelock College, said she has continued her exact Wheelock course program at BU. As such, she, along with many other seniors in her program, can't compare the relative difficulty of the Wheelock College and BU curriculums.
"I was so far into the Wheelock program that they had to teach it out," Markunas said. "I am still involved completely with a Wheelock program, Wheelock College and Wheelock professors."
Markunas said she thinks that a 4.0 requirement for the summa cum laude honor is unrealistic for most people. She said she believes that Wheelock students are now being held to a higher standard academically because of the merger.
"I think this favors students who are originally from BU because there is a stigma that BU students are top quality, high GPAs in high school, and they were admitted to BU because they are top of their class," Markunas said. "Not that it's not motivating for Wheelock students, but I think it is unrealistic in the sense that it will just be setting them up for failure and favoring the culture of BU."
Tali Costopoulos, a junior in WED, said she believes the education styles at BU and Wheelock are completely different, which may have an impact on who is able to achieve which latin honors.
"It's kind of like comparing apples and oranges," Costopoulos said. "Most people [went] to Wheelock because their strengths are in … writing and not as much in standardized testing, whereas at BU, I've had classes that are more focused on standardized testing."
Although Costopoulos said that she thinks a 4.0 is technically attainable, she does believe it's an unfair standard for WED students.
"Asking for a college student to achieve a 4.0 GPA is to be asking and expecting a student to be literally perfect, and that's an unfair standard," Costopoulos said. "I think everybody can achieve it whether you were already at BU or whether you merged."
WED senior Meghan Rubadou wrote in an email that she does not believe the GPA-cutoff increase is directly related to the merger.
"I would expect and anticipate that BU will always ask that their students do better than the average," Rubado wrote. "These high expectations are another reflection of the elite standard that BU is known for."
Rubadou added that she does not believe that this change favors any student because a latin honor does not define ability.
"I will not generalize students from Wheelock as one type of student because Wheelock College will always be the best school in the nation for public service/education based careers," Rubadou wrote. "… While many Wheelock College students will not receive a 4.0 GPA, I do not believe that will in any way result in a negative reflection on my ability to be an exceptional Child Life Specialist."