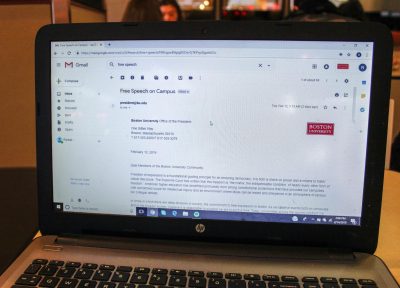 Boston University President Robert Brown announced in a university-wide email Tuesday the formation of two committees that will focus on freedom of expression on campus, prompting mixed reactions from the BU community.
"In times in which there are deep divisions in society, the commitment to free expression is tested," the email reads. "As we observe events both on campuses and in the broader society, I believe it is reasonable to suggest we are in such a time."
The first committee, the Free Speech Policy Committee, will look to develop a statement that "describes and affirms the University's commitment to free speech," whereas the second committee, the Free Speech Operations Committee, will "review and revise existing University policies and practices related to speech and expression on campus," according to the email.
In an email to The Daily Free Press, Brown wrote that universities must be dedicated to freedom of speech while also being environments that foster thoughtful criticism and civil debate, mentioning specifically that divides in society are evident on college campuses "where incidences around specific speakers have caused disruptions."
Lida Maxwell, an associate professor of political science who teaches a course on political freedom at BU, said Brown detailed a very important issue in the need to balance freedom of expression with inclusivity.
"The question of how you create a context at the university where people can feel like they are able to explore issues freely while also creating the very important welcoming, supporting environment for people of diverse identities, diverse backgrounds — it's really hard and really important," Maxwell said.
Spencer Piston, an assistant professor of political science, wrote in an email that it is too early to say whether Brown's announcement is a step in the right direction.
"It certainly sounds good to endorse free speech and inclusivity, but these statements don't mean all that much by themselves," he wrote. "Who is for unfree speech or exclusivity?"
Piston added that this is not criticism, but rather a reflection that much needs to be done before it is clear whether the work of the free speech committees pays off.
Several BU students held mixed responses to the formation of the committees.
College of Arts and Sciences junior Daneil Dixon said he generally does not feel that there is too much of a problem with free speech on campus, adding that he thinks BU already does a good job at responding to issues related to harassment or other forms of potentially harmful speech.
"Generally, I'd hope that they loosen their current policies," Dixon said. "If it doesn't come with any malice intent, then I don't think that speech should be cracked down on at all."
Glo Robinson, a freshman in the College of General Studies, said she thinks the issue of free speech on campus is worthwhile to address.
"Given the political climate in this day and age, I think there are a lot of controversies that are coming up more than they used to just given how divided our country's become," she said. "I think there is something beautiful about having free speech at the same time — I wouldn't want that to go away."
Robinson said university-wide workshops addressing speech that can be harmful or offensive and how to respond to it could be beneficial to the BU community.
"I can't tell people to say, 'Hey, you can't say this,' because this is a free country," Robinson said, "but I can learn how to react to it."
First-year master's student in the Graduate School of Arts and Sciences Sakshi Goel said she agreed with the decision to form the committees and that it is essential to update and revise policies on free speech as the university moves into the future.
"I think there is a difference between free speech that is intended to offend somebody else and free speech that is generally expressing your own opinion," she said. "I do hope that if it's a perfect world, people do understand that even if they do have the right to free speech, there is a way — or a method — to express those [opinions] without offending somebody."
According to the committees' website, listening sessions and focus groups for community feedback are scheduled to take place this semester. The presentation of the proposed statement on free speech and potential policy revisions are scheduled for review and ratification next fall.