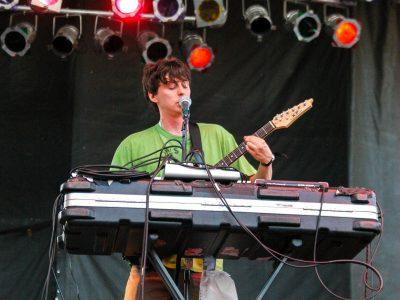 Back in the '90s, legendary names like Nirvana and Radiohead led the tenuously defined "alternative" genre with cinematic guitar riffs contrasted by dim, somber lyrics. But in the early 2000s, bands moved away from the melancholic, grungy sound of alternative music.
As years progressed, the alternative music that lasts today went in a more chipper direction, with one of its main byproducts being modern neo-psychedelia.
Of all the representatives in the neo-psychedelia subgenre, Animal Collective remains one of the most celebrated. The Baltimore-based band enveloped listeners with extensive crescendos and unconventional harmonization techniques.
Whether it be the abrasive opener of its 2000 album "Spirit They've Gone, Spirit They've Vanished" or the addictive arpeggios on "Merriweather Post Pavilion," Animal Collective put on display a niche sound that championed the 2000s' neo-psychedelia scene.
Fast forward to 2019, and one of Animal Collective's founding members, Panda Bear, appears to have lost sight of not just his band's innovative demeanor, but his own, as well.
The artist's newest album, "Buoys," released Feb. 8, and serves as definitive proof that Panda Bear's halcyon neo-psychedelic era of the 2000s has been replaced with folktronica.
To restate a previous point, Animal Collective had a "niche" sound and, therefore, a niche audience. And that niche audience had become accustomed to something cryptic, something eclectic — something experiential.
You can't establish a fanbase that clings to those unique musical aspects and then expect success from something mechanical.
As soon as "Dolphin," the first song on "Buoys," comes on, the listener is greeted by a lightly reverberating acoustic guitar riff, the sound of water droplets and Panda Bear singing in an unfamiliar, dopey manner.
Already, it feels as though the legendary artist is employing uninspired techniques to try to make this album more of a listening experience.
Panda Bear's seminal 2007 release, "Person Pitch," achieved this feat naturally. The album used slow crescendos and chambery, soothing vocals that submerged the listener into the album's nautical themes.
On "Buoys," Panda Bear tries to do the same but with forced tactics that are easily parsed.
Panda Bear does succeed in creating a psychedelic sound that few notable artists have paraded in recent time. Songs "Cranked" and "I Know I Don't Know" at least serve as catchy contrasts to an otherwise bland album.
What makes "Buoys" so monotonous is the fact that Panda Bear landed on a handful of musical techniques — notably echoey vocals and guitar riffs, coupled with nautical sound effects — and decided to try to maximize them by using them on virtually every track on the album. All this serves to do is make the album more forgettable than it already is.
What also doesn't help the album is the fact that even by neo-psychedelic standards, Panda Bear's lyrics range from vapid to completely nonsensical. Take this line from a verse on his song "Token": "A blast from an automatic / Smooth, no jamming / A slap on a jelly a–."
It's difficult to determine whether Panda Bear is hot and heavy for a sexual encounter or if he desperately wants to fire an AK-47 with a well-oiled chamber. At least on Animal Collective's older sexually explicit efforts such as "Did You See The Words," their strange lyrical style was elevated by creative instrumental backing.
There are at least some tender moments on "Buoys" that don't come off too mawkish. "Inner Monologue" may feature similar lyrical patterns and dopey vocals like other moments on the album, but there's something encapsulating about it. It could be the backing sounds of a girl moaning or the no-frills guitar-picking lead.
Either way, the song is rather inoffensive in comparison to the rest of "Buoys."
Perhaps fans shouldn't be surprised with Panda Bear's sonic locomotive moving in a more accessible direction, though.
Throughout this decade, he and Animal Collective alike have done just that, most notably on the band's 2016 album "Painting With." Sure, tracks like "Golden Gal" and "FloriDada" are indubitably uplifting with their doo-wop-inspired pace and vocal harmonizations. But plain time signatures and boring synths made it clear that the band's innovative side was in retrograde.
Unfortunately for Panda Bear's more committed fans, the forward-thinking musical vision of his heyday has concluded. This isn't to say that his music is outright awful — there are a peppering of catchy and clever moments throughout "Buoys."
But what is striking is that an artist whose past was absolutely transcendent has now regressed into something mid-table.