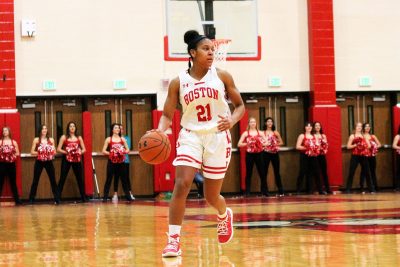 Boston University women's basketball took on Turnpike Trophy and Patriot League rival Holy Cross at Case Gym Saturday, the busiest day in BU athletics history in which doubleheaders were played by the BU lacrosse, basketball and hockey teams.
The third place Terriers (12-11, 8-5 Patriot League) were defeated by the fifth place Crusaders (15-9, 7-6 Patriot League) in a heated battle where BU nearly staged a furious 13-point comeback, but ultimately fell short 64-61.
BU head coach Marisa Moseley said the game was a hard-fought battle, but the Terriers' offensive struggles will not win games.
"I think we dug ourselves a hole," Moseley said. "I was really proud of our kids, the way we executed in the fourth quarter and went on a big run, but we just can't have quarters where we score 10 points and think that we're going to win games."
Going into a media timeout with less than three minutes left in the first quarter, the Crusaders held a slight 13-12 edge led by six points from forward Oluchi Ezemma.
The opening frame ended with a layup from Holy Cross guard Jenay Faulkner with two seconds remaining to put the Crusaders up 17-16. Holy Cross was led in scoring by Ezemma while BU was led by senior guard Payton Hauck's eight points.
The Crusaders jumped out to an 11-point lead on a 10-0 run with 4:40 remaining in the second quarter as they held the Terriers scoreless for almost five minutes. BU's scoreless streak ended after senior Lauren Spearman made a jumper 37 seconds later.
The Terriers battled back to make it 29-25 with just under two minutes remaining in the half. Senior forward Naiyah Thompson surged for seven quick points, including an and-one layup, and BU's defense began making stops on its end.
Moseley could be heard on the sidelines yelling, "Somebody step up!" and it seemed as if Thompson heard the call. Moseley said Thompson put forth a phenomenal scoring performance.
"I was really proud of her — she did an excellent job coming off the bench and really providing the spark that we need," Moseley said.
The half would end on a layup by freshman forward Riley Childs and then an airball from Holy Cross. The teams headed to the locker rooms with Holy Cross leading 32-27.
Thompson led all scorers at the break with nine points, while Faulkner and Crusader center Megan Swords had seven at the half for Holy Cross.
Midway through the third quarter, the Crusaders led 40-32 sparked by five points from guard Madalyn Smith. Thompson put up three before the timeout with another and-one layup followed by the free throw.
At the end of the third frame the Crusaders led the Terriers 45-37. Crusader forward Lauren Manis and Smith led all scorers in the quarter with five points. Hauck led the Terrier offense with four points in the quarter.
With five minutes left to play in the game, the Crusader lead had extended to 11 points at 54-43. As the time ticked away, Holy Cross began slowing its play, drawing out long possessions that ate at the clock.
Holy Cross called a timeout to try and regain momentum with two minutes left to play, clinging to an eight-point lead as the Terriers found a groove and went on a 6-1 run.
Coming out of a timeout, the Terriers forced a quick turnover leading to a layup by Hauck. However, on the ensuing possession the Terriers would take a major blow as Childs was called for her fifth foul and fouled out.
BU was not finished, though, as sophomore guard Katie Nelson drilled a quick three for the Terrier's first three-pointer on the day. The Terriers then forced two quick timeouts out of Holy Cross, almost forced a five-second violation and then trapped a Crusader in the backcourt.
The Crusaders then missed two free throws, and Nelson drilled a three, sending Case Gym into a frenzy as the Terriers pulled within two points, 61-59.
The Terriers would turn the ball over at a costly time on their next possession and were forced to foul the Crusaders down three. Holy Cross freshman Avery LaBarbera would make one of the two ensuing free throws, giving Holy Cross a 63-59 lead.
The Terriers would get one final chance down by three with 5.5 seconds remaining, as Holy Cross would only make one free throw after a layup from Hauck.
Spearman got a decent look at a three-pointer at the horn, but it was slightly off, and the Crusaders held on to win 64-61.
Hauck led all scorers with a game-high 18 points, followed up by Thompson's 14 points. Smith led a balanced Crusader offense, which had four players bringing in double-digit points.
The Terriers will travel to the nation's capital Wednesday to take on American University.
Speaking on the road trip, Moseley said American has great scoring talent and that BU must be prepared to handle that.
"They have really dynamic scorers, three-point shooters, and so we just have to make sure we're locked in on personnel," she said, "and we've got to make sure we can score."