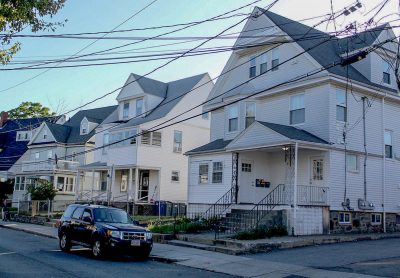 Will Andronico, a freshman in Boston University's College of Communication, carried a folder full of housing advertisements and flyers from table to table on Wednesday in search of a place to live off campus with his two roommates next year.
Andronico lives in West Campus and said he is looking for a change.
"Currently, I feel like where we live is kind of a hole," Andronico said. "Living off campus, you can get a lot more space and area for an equal amount of money."
BU's Off-Campus Housing Fair was held from 4 to 6 p.m. in the Back Court of the George Sherman Union Feb. 13. Tables from Harvard Ave Realty and OffCampusCribs, among others, were present at the fair.
Andronico and his roommates are not alone in their desire to leave BU's dorms. Out of more than 30,000 undergraduate and graduate students at BU, around 4,000 to 5,000 live off campus, according to Kimberly Santo, the university's assistant director of judicial affairs and off-campus services.
"Students often make the decision to move off campus, I've heard, because they think it's cheaper, but that's not as accurate these days, as housing prices have gone up in Boston," Santo said. "I think it depends on the apartment."
Mike Fedotowsky, property manager of the TRAC 75 apartment complex in Allston, said choosing a new place to live can be intimidating and sometimes hard to navigate for undergraduates since not all locations are open to leasing to everyone.
"One thing that sets us apart is that we do rent to undergraduates while others may not," Fedotowsky, who represented his building at the housing fair, said. "When students come to us, they're usually looking for a couple of different things when they make their choice — whether it's a three-bedroom apartment or a single, what amenities we have, whether we allow pets, and the price."
Clarissa Garza, a sophomore in COM, said price was one of the most important considerations in her housing search.
"I'm not too picky, but I hope to live off campus because BU housing is really expensive," Garza said. "I want it to be close to campus, and a big requirement for me is having laundry inside the building, as well as a kitchen."
College of Fine Arts first-year graduate student Ashwini Patil said that even if off-campus housing doesn't offer better prices, it still has advantages.
"As a grad student, living on campus would be costly for me, plus some of my friends aren't eligible, since they are from different universities," Patil said. "I've heard a lot of mention of $1,200 per person per month as a common rate that people look for, because it's close to the BU standard rate. So that's around what I'm looking for."
Santo said students might want to leave campus in order to gain more freedom. She also said there was a lot of responsibility that comes with living outside of the BU system.
"If students choose to move off campus, we just hope that they will be good, considerate neighbors," Santo said. "Safety, security and other things like that are also very important. Part of why we want to have events like this fair is so that we can help students ask the right questions — things like the history of the building, the safety of the area, things that parents would think to ask but students might not necessarily think of."
According to Esther Lee, a sophomore in Sargent who currently lives in a Bay State Road brownstone, safety is not usually the first thing on students' minds. However, she said, it does eventually become a concern.
"Open areas are hard for privacy," Lee said. "My one concern is about traveling at night in Brookline or Fenway, since I want to live alone. I'm also concerned about transportation during the winter."
In addition to local realtors and student housing organizations, the housing fair brought in representatives from safety organizations such as the City of Boston Inspectional Services Department and Boston Police Department Neighborhood Crime Watch Unit.
Wallace Grant Tilford, assistant director of the BPD Neighborhood Crime Watch Unit, said students living off campus can be an issue for residents of the neighborhoods the students move into.
"Most of our concern in neighborhoods like Allston and Brighton is with overcrowding, noise and parties," he said. "In terms of safety, students should use common sense in everything they do and make sure to secure their belongings. When we have break-ins, it's usually when students are away on vacation and haven't secured or locked their housing. It's important for students to be aware of their surroundings."
Santo said now is a good time for students to be making decisions about housing, but said she also realizes that the timing is different for everyone.
"Some people will even say you should start looking a year in advance, but that's not always feasible, as students sometimes wait until the last minute," she said. "Overall, the three most important things to keep in mind when looking for off-campus housing are knowledge, planning and research."