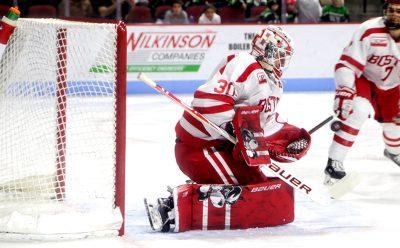 After six tumultuous games without a win, the Boston University men's hockey team finally jumped back into the "W" column last Saturday night at Agganis Arena.
With a 2-0 shutout of University of Connecticut, the Terriers moved into No. 6 in the Hockey East heading into the stretch run of the regular season. BU is just one point behind No. 5 Boston College, and it will have the chance to eclipse the crosstown rival with two games against No. 9 Vermont this weekend.
"We looked at the records and said, 'Look, everything's up for grabs,'" BU head coach Albie O'Connell said.
The Catamounts (12-16-2, 5-13-2 HEA) have accrued 12 points in conference play, the same amount as the UConn Huskies unit BU faced off against last weekend. The Terriers will have time to get familiar with their surroundings in Burlington, Vermont, as both Friday and Saturday will be played at Gutterson Fieldhouse.
"There's a lot of hockey left to be played," O'Connell said ahead of the series with Vermont.
Vermont has lost three of its last four games, but the team is solid at home with a 7-6-1 record. Since Jan. 4, the Catamounts have hosted and handled Sacred Heart, Merrimack, Providence and New Hampshire. They also took Clarkson to overtime at Gutterson Fieldhouse.
Last season, Vermont came to Agganis Arena for two games and was outscored by a combined 3-1. BU pitched a 2-0 shutout in the series opener with graduate forward Drew Melanson, who graduated last year from the Metropolitan College, and current sophomore defenseman David Farrance scoring goals. The following night, the units played to a 1-1 tie with graduate forward Jordan Greenway, who graduated from the College of Arts and Sciences last year, scoring the lone Terrier goal.
Forward Alex Esposito netted the Catamounts goal in that game, and he has done plenty of scoring in his second season as a sophomore with the team. Esposito is third on the team with seven goals and 16 total points.
The Connecticut native has a penchant for playing well against premium opponents, as he opened the season with a two-goal game against Michigan.
Esposito is not the only Catamount who can score. Forwards Max Kaufman and Joey Cipollone lead the squad with eight goals each. Kaufman, who pilots the team with 18 total points, has had a few games to remember this season with two goals against both RPI and Sacred Heart.
For Vermont, goalie Stefanos Lekkas has been working hard, logging almost 2,000 minutes so far this season. The Illinois native ranks first out of 12 qualified goaltenders in the conference with a 93 percent save percentage.
His win percentage leaves something to be desired, as he is No. 9 in the league with a 43.3 winning percentage. Lekkas ranks in the middle of the conference at No. 7 in goals allowed per game with 2.28.
On the Terriers side, junior goaltender Jake Oettinger ranks No. 9 in the Hockey East with 2.65 goals allowed per appearance. Despite this underwhelming note, Oettinger will be riding up north with some confidence this weekend.
"I think we've been competing real hard," Oettinger said.
The Dallas Stars prospect had perhaps one of his best games of the season last Saturday night, stopping all 26 of the Huskies' shots.
"It was important to bounce back," Oettinger said after posting a shut-out to end BU's six-game losing streak.
He will attempt to replicate this performance against Vermont, a team that averages 2.27 goals per game. In comparison, conference-leading UMass Amherst scores 3.79 times per night, and BU nets 2.69 tallies per outing on average.
The Minnesota native will also look to improve some of his other stats. He enters the weekend No. 9 in the conference in goals against average and No. 8 in winning percentage.

As they make the business trip north, the Terriers and Oettinger will see the opportunity to gain four crucial points Hockey East play.
"They see hope," O'Connell said.
The two-game set will be played on Friday and Saturday, both set to start at 7 p.m.
Brady Gardner contributed to the writing of this story.