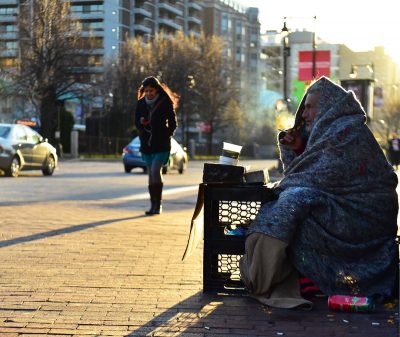 Collecting boxes of cereal, water bottles, Rhetty-to-go meals and venturing into the Greater Boston metropolitan region, Swipes for Boston looks to give back to the community. The project's mission soon transformed into something greater than solely providing food for the homeless.
Anthony Dongfack, a junior in the College of Arts and Sciences, said he originally introduced the Swipes for Boston project in the spring of 2017. After witnessing his friend AaronRey Ebreo from Temple University start Swipes for Philadelphia, Dongfack felt it was his duty to bring this idea to Boston University.
Dongfack was eager to begin the food drives but said he did not anticipate the reaction he initially received. With the student body's lack of awareness of this community service opportunity, Dongfack said he was left with a small team comprised of only a few close friends.
At first, he said the homeless community was hesitant to receive the donations, which only fueled Dongfack to persist in his project.
"They didn't want to talk to us and sometimes didn't really appreciate us doing what we were doing, and it just kind of confused me at first," he said. "I really just kept pushing. I just kept believing in what I was doing even though it was hard in the beginning, and eventually more people wanted to help out."
Swipes for Boston was granted $3,000 by the Santander Urban Impact Microgrant Program through the BU Community Service Center. According to the CSC's website, the program's grant was created to help BU students start projects that help with youth engagement, urbanization, race and diversity, smart city or urban public health.
BU Student Government's Department of City Affairs endorsed the project. Directory of City Affairs Sarah Paco, a senior in the CAS, said she was instantly moved by the opportunity to strengthen the university's relationship with Boston.
"As students, I feel that we are in a position of privilege and should use this position to aid those who are vulnerable and spread awareness on issues that are prevalent in our community," Paco said.
According to Dongfack, the support for this project extends beyond Commonwealth Avenue, as students from Emerson College and Northeastern University have helped distribute food, as well. Dongfack said he hopes other colleges and universities in the area will join this collective battle against hunger.
Paco said the BU student body's attitude toward the program seems to be very receptive of late due to improved marketing efforts and greater community appreciation.
"While many students may not have had first hand experiences with homelessness and hunger, I hope they can see our project and realize the position of privilege that we are in," Paco said. "By spreading awareness of our mission and the prevalence of the issues of homelessness and food insecurity, we can encourage even more students to contribute and have a larger impact on our community."
Dongfack said such student contribution was validated during a recent run to Arlington on Feb. 8. According to the Swipes for Boston founder, the group encountered a grateful man from Brazil whom they have come across on previous food runs. This time, Dongfack said, the conversation took an emotional turn as the man delved into his life story.
"He told us that it was people like us that give him hope and help make life worth living," Dongfack said. "While he was tearing up, I remember I got down on one knee and held his hand, and I told him that although it may not always seem like it, there are people looking out for him, that we were here for him."
Currently, Dongfack said he is coordinating ways BU Dining Services can stand behind this mission. In regards to college meal plans, he said that the massive amount of unused meal swipes that accrue and disappear on a yearly basis could be used to help the greater community.
Kristin Houdyshell, a CAS junior, said she was greatly interested in this idea to make the most of dining swipes. She said she was placed in a dorm last semester and was required to purchase a dining plan that she rarely used, and was eager to learn if these unused points could benefit others.
"I think it's a really good idea not just for the Boston area, but for any college, and would be great to use around the nation for students that may not be aware of where their excess dining dollars go," Houdyshell said.
Dongfack said he hopes Swipes for Boston continues well beyond his time at BU, so that the impact of this program is evergreen.
"People without homes are real people just like you and I — no less, no more," he said. "Instead of being ignored or regarded as inferior, they deserve to be treated with respect in the same way you would respect anyone else because at the end of the day, we are all human."