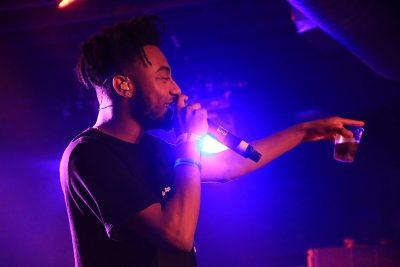 Student Government announced just before midnight Wednesday that rapper Aminé will be the headliner for the spring concert, called 802.1, on April 5. Student Body President Devin Harvin said that a goal of his administration has been to increase the amount of events on campus for the entire student body.
"We kind of realized there are only three events that people really come together for throughout the school year, and that's splash, matriculation and commencement," Harvin said. "So we wanted to change that narrative, and one of the ways we thought that we could do that was through music and through a concert for the entire student body."
This will be the first spring concert in five years, according to Harvin. 
Harvin explained that at midnight, Student Government hung posters around campus announcing Aminé would be the main event, and then Wednesday morning he sent out an official email to the student body.
"We have about 80 people signed up as volunteers, we have about 1500 posters, and we're just going to poster the entire campus," Harvin said Tuesday, "and then by Wednesday morning when my email comes out to students, everyone will know that Aminé will be the artist."
The name? 802.1 is a nod to the campus Wi-Fi network. Harvin said he wanted it to be something significant to only BU students.
"We wanted to play into that and kind of do something where if you don't go to BU, you just don't understand, and that's OK because you don't go to BU," Harvin said.
Harvin said that the use of the Wi-Fi name is also a meme because students know the Wi-Fi on campus is unreliable.
SG Chief of Staff Tom Batson said the 802.1 theme will be worked into the set design that SG has created with their production company.
"We have a great stage concert that works in the 802.1 slogan, and it should be a pretty formidable stage for the artist to work with the crowd and for everybody to see," Batson said.
Batson said because this is the first year the spring concert is being thrown, members of SG knew they would not be able to find a venue large enough to fit all undergrads. Instead this year is more of a test to see how many students are interested in this kind of event.
"This first year is really sort of a test run to make sure this is confirming that students want this for years coming forward," he said, "and so we can make it happen on a yearly basis and continue to make it grow."
Students have the opportunity to audition to be an opener for the concert, Harvin said. Students and groups have until Sunday to submit a video audition. Harvin said this is so the concert can highlight the talent BU has, in addition to bringing in a popular musician.
"We want to keep it in house," Harvin said. "We want people to see the talents of different BU students and kind of it being we're bringing in an artist, but you also get to see the talent BU has."
Suzie O'Michael, SG's director of events, said SG collaborated with the Student Activities Office to plan the concert.
"Whenever we were working together, administrations said that we had to work with the Students Activities Office," O'Michael said, "so that's how we combined Student Government and the Campus Activities Board to make it all happen."
O'Michael said the week before the concert will be a school-wide spirit week to increase school spirit and encourage students to attend the event.
"Student Government's going to be having a spirit week that whole week, so it will be like different things every day," O'Michael said, "and then the concert will be the finale of the spirit week for the university."
As for the funding? SG Senate Chair Andrew Chiao explained the Senate approved the money last semester to be allocated for the concert.
Chiao also said members of SG will be spreading the word about the concert, as well as helping on the day of the event by volunteering.
"Student Government members will be assisting in basically getting the word across campus for the announcement tonight and then at the concert itself," Chiao said during the day on Wednesday. "Student Government members will be involved in volunteering at the concert."
Caroline Dollase, a sophmore in the College of Arts and Sciences, said she thinks the concert will unite students because music is something that most people have an interest in.
"I feel like it's a good way for a lot of people to join together because not everyone likes sports, not everyone likes certain things, but a lot of people like music," Dollase said.
Taylor Janke, a freshman in the College of Engineering, said she thinks events for the student body would encourage students to bond with one another.
"It's school sponsored, so it's something that's not super hard for the students themselves to plan and get together," Janke said.
Lauren Joyner, a sophmore in CAS, said because BU is in a city, she thinks it would be harder to plan large student events.
"There's a better community, I feel like other big schools throw stuff like that," Joyner said, "but since we're in a city, it's kind of hard, so it would be cool to see how Student Government implements that for our school."
Sarah Iles contributed to the reporting of this story.