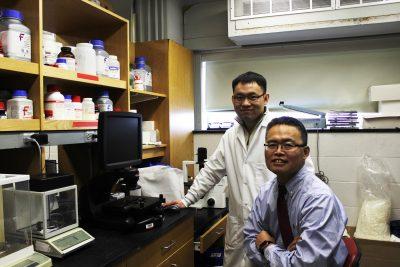 Although melanoma — a type of skin cancer — is expected to claim 7,230 lives this year, according to the American Cancer Society, new hope for treating the disease is in the works at Boston University.
The number of melanoma victims may decrease in the coming years with the use of a new drug compound, according to research by Rutao Cui, a BU School of Medicine professor.
"Skin cancer is frequently diagnosed, and melanoma is the deadliest form," Cui said.
According to a BU Research article, melanoma is a form of skin cancer in which harmful ultraviolet light damages the DNA of skin cells. Around 25 percent of all melanoma cases are caused by a mutation in the NRAS gene. These mutated NRAS genes then activate several other genes in the body, ultimately encouraging dangerous unregulated cell growth.
Cui said the current melanoma treatments — immunotherapy and targeted therapies — are not effective for patients that have mutations in the NRAS gene.
The NRAS gene belongs to the RAS family of oncogenes, which Cui and his team have been dedicated to studying. Cui said the process of discovering the genetics behind NRAS-specific melanoma was very difficult.
"We tried to step-by-step to use models to eventually find some targeted inhibitors for RAS," Cui said. "NRAS is very hard to target."
A major key to his progress was the advanced technology used in the research, according to Cui.
Gayatri Bajaj, a junior in Sargent College of Health and Rehabilitation Sciences, worked in research on the genetics of Alzheimer's through a work study program. She said technology developments have opened up great opportunities for researchers.
"There is so much new technology that is up and coming in the biotech world that is sure to help out medical professionals and researchers overcome some of the technological limits they might be facing now," Bajaj said.
After ample time and the use of this technology, Cui and his team targeted a protein called STK19 that is responsible for activating the NRAS gene, as explained in his recently published paper.
Adam Lerner, a professor at BUSM, said the STK19 protein had some unusual properties.
"What's striking is that the STK19 doesn't cause melanoma itself but instead seems to collaborate with mutant NRAS," Lerner said.
Cui's team designed a drug compound to block the effect of STK19 on NRAS. The drug effectively prevented activation of NRAS, thus preventing the spread of melanoma.
According to Lerner, this development has impressed both doctors and scientists alike.
"People have tried for many years to come up with ways of treating cancers in which RAS genes are mutated," Lerner said. "[Cui] has identified a drug that quite specifically inhibits STK19. This is quite an incredible feat."
Currently, this drug is being tested on mice and cell cultures. In the future, Cui said he hopes to expand the testing of this drug to humans.
"We want to perform some clinical trials," Cui said. "Some patients said they are looking forward to this new drug and want to take part in trials. We have received emails from patients from all over the world. They all want to partake."
Lerner said the study must be very thorough because not all drugs have the ability to go from being tested on tissue cultures to humans. Lerner mentioned that presumably the next step for this drug would be contacting pharmaceutical companies.
Such companies could mass produce this drug that stops STK19 to help treat melanoma patients with whom immunotherapy proves ineffective.
Beyond targeting melanoma in particular, Cui said the discovery of STK19's effect has the potential to cure other forms of cancer, as well.
"I believe [the drug] is also critical for patients with other types of cancer such as pancreatic or lung cancer," Cui said. "Thirty percent of all cancers have RAS mutations. Right now I'm trying to extend our research to other RAS tumors, but unfortunately we haven't gotten success yet. I hope we can get some good results in the near future."
Bajaj commented on the potential that younger generations have to treat cancer.
"We have witnessed the effects of disease strike our loved ones, and at the same time have seen the wonders of medicine," Bajaj said. "Armed with this knowledge and experience, I feel that our generation is coming into the medical field ready to make a difference."
Cui said he hopes that with newly developed drugs and increased awareness, rates of cancer will fall in the future.
"It is hard to completely treat cancer," Cui said. "In the past five to 10 years, we got a lot of breakthrough with immune and targeted therapies. Eventually, we can get very good results."