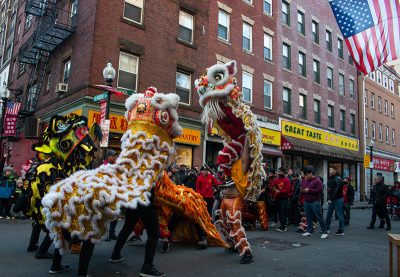 With vibrant red and green flags in the air, traditional lions snaking down the streets and restaurants teeming with customers, the streets of Chinatown were filled with people celebrating Sunday.
The Lion Dance Parade was part of the celebrations for the Chinese New Year, which was on Feb. 5. Many people view the day of the Chinese New Year as a foreshadowing of the rest of the year, according to a Chinahighlights article. For some, it's important to make these observances eventful, traditional and meaningful.
James Chen, a participant in the day's celebrations, shared that he has been volunteering in these parades for the past 10 years. This year, he was helping to hold flags behind one of the lions. Chen said Chinese New Years meant celebrating traditions with "family get togethers, dumplings and red envelopes."
Chen was accompanied by hundreds of other members of the Chinese community dancing under lions symbolizing good luck for the upcoming year, as well as playing drums and symbols in unison.
Several Boston University clubs were also in attendance at this particular Chinese New Year celebration, such as the BU Kung Fu Club.
The Kung Fu Club aims to teach students an array of Chinese martial arts at several different skill levels, according to the BU Fitness and Recreation website. After vigorous practice, the club ultimately holds performances in which the members display their mastery of several different forms and appreciation for this traditional Chinese hobby.
BU School of Medicine student and first-year member of the Kung Fu Club Darian Fard explained that his club is involved in the Chinese New Year parade to interact with the Chinese community members in Boston.
"[Parade organizers] have us come and hold the flags and drums and do the dance. We do this every year," Fard said. "You make a lot of friends, so it's really nice. Also you meet people from other clubs."
While clubs such as the Kung Fu Club were directly involved with the New Year's festivities, others, such as the Asian Student Union, dedicate their meetings and club time to commemorating the holiday at school.
"Since it is such an important holiday, ASU does try to incorporate the celebration of the Chinese New Year no matter if it is including it as our theme for our general meeting or going on a 'cASUal' popup to a Lunar New Year celebration at the MFA," Joseph Kao, ASU Upperclassman Representative and Questrom School of Business junior, wrote in a text.
According to Chen, whether it is in Chinatown or Commonwealth Avenue, Boston residents, both those who are Asian or not, enthusiastically congregate to honor the rich Chinese culture during this time of year.
"As you can see, a lot of people come to visit, even those that are not Chinese," Chen said. "They like to see what's going on in the tradition and get involved in the culture."
As a non-Chinese student, Fard said this occasion sparks his curiosity to take part in cultural events that were once unknown to him. Throughout the parade, Fard held up a blue flag representing the Kung Fu club, taking in the scene for his first time.
"If you are from that culture, it's like a huge deal, you know," Fard said. "If you go to China right now it's huge. This is just what it's like in Chinatown, so imagine what it's like in China."
Kao said though Boston is thousands of miles away from the country, he said the community's acceptance and willingness to learn about the Chinese culture is rather remarkable.
"I think the Chinese culture is accepted and celebrated in Boston, especially within BU, because it is so diverse here, and everyone values each other's traditions," Kao said. "The Asian cultural clubs do make an effort, and even the BU Dining Halls have a Chinese New Year Menu."
With the increasing number of international students at BU each year, Kao said the respect for culture at this school seems to be well-shared and well-spread.
As BU and the remainder of the Boston community continue to take part in such momentous cultural occasions, Boston may very well become home to a culturally accepting, diverse populace.
"Everyone has their own culture, and as long as we're allowed to express these cultures without getting in the way of other people, I think we definitely should be allowed to do it," Fard said.