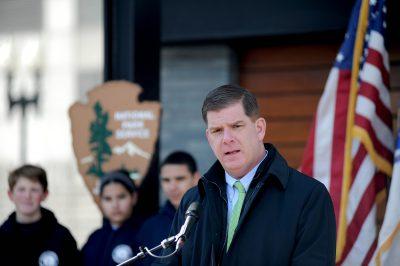 By Joel Lau and Samantha Downing
Boston Mayor Martin Walsh and the City's Community Preservation Committee presented their list of recommendations for projects to receive funding from the Community Preservation Act this coming fall. The list included a total of 56 projects costing $34 million in total.
After voting on the mayor's proposed projects on Feb. 11, the CPC settled on the current sites, which are to be voted on again by the Boston City Council in March.
Walsh said in an emailed statement that the Community Preservation Act had done a lot to benefit the entire city. Since it was approved by residents two years ago, it has funded projects in every neighborhood in Boston.
"I am proud to recommend these proposals for funding approval, which will support our community in countless ways," Walsh said. "We look forward to continuing to use this revenue to build on our work related to affordable housing, historic preservation and open space."
Each of the proposed projects centers on improving parts of Boston. The North End project, for instance, intends to devote $1 million to Langone Park for waterfront construction and flood resistant structures. The North End project is also in accordance with the City's Resilient Boston Harbor and Climate Ready: Downtown initiatives.
Similarly, the East Boston project zeroes in on housing, hoping to allocate nearly $1 million to Grace Apartments for construction of senior citizen and homeless housing. The East Boston project also portions $735,200 to the Aileron development project for building additional cheaper housing and $500,000 for the establishment of a park joining Boston Housing Authority Orient Heights and nearby residences.
Back Bay's First Baptist Church will receive $420,000 for preservation and renovation. Pastor John Odams said he was excited to receive the news of the funding, as the money would be used for repairs to its historic steeple.
"This is the first Romanesque building that H.H. Richardson, the famous architect, designed," Odams said. "The funding is actually for some of the infrastructure and roofing of the tower, on which there are carvings by Frédéric Auguste Bartholdi, who is better known for the Statue of Liberty. So it is quite a prominent landmark."
Odams said the Community Preservation Act made sense, as it is funded by taxes on real estate fees. In turn, the funds are used to preserve important landmarks, increase affordable housing and boost Boston's appeal.
"People are buying in Boston because of the character of Boston, the uniqueness of Boston," Odams said. "So there should be a mechanism for restoring and preserving our community, both by maintaining open spaces, providing affordable housing as the rental market goes up."
As for the application process, Odams said that the church had been applying for two to three years and had to supply multiple estimates and recommendations to the CPC.
"It was an open process of applying," Odams said. "You would have to come up with estimates of what the work would entail, what the cost would be, an estimate in condition and application and letters from the community and local city councilors. I believe ours was from [City Councilor] Josh Zakim."
However, Odams said while the money provided by the City would only enable repairs for a part of the church, he hoped that the CPC's recommendation would aid in obtaining funding in the future.
"[The endorsement] will also help us hopefully to raise additional funds because this is going to take care of the top of the tower," Odams said. "The tower is 176 feet in height, as well as the rest of the building, so there is a lot of work that can be done, but it is a good first step."
Aimee Edmondo, 32, of Brookline, said while she thinks the improvements could be beneficial, funding might be better used in other areas in the city. She said public transportation, families in need, early childhood development and the Boston Public Schools could really use the funds.
"I do think there's value in preserving historic sites for other people to enjoy, for taxpayers to enjoy," Edmondo said. "But I do think that there are other pressing issues that probably deserve funding, as well. I think it's important to consider all of those aspects before devoting a large chunk of money to basically infrastructure rehabilitation."
Grace Atherton, 26, of Allston, said she thinks the preservation projects are a worthy cause for the City to fund.
"It's a good use of money," Atherton said. "I think there's a lot of architecture and buildings in Boston that are worth preserving. I look at old photos of Boston a lot, and a lot of old buildings aren't there, and they would be beautiful."