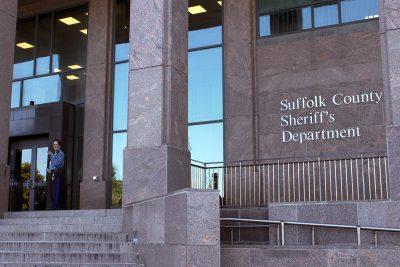 Around 70 Immigration and Customs Enforcement detainees at the Suffolk County House of Correction have been on a hunger strike since Feb. 15 to call for an end to "abuse and inhumane conditions."
The detainees have been in contact with Rhode Island-based groups Alliance to Mobilize our Resistance and the FANG Collective. Arely Díaz, an organizer for FANG, said that as of Feb. 18, five detainees were being held in solitary confinement for participating in the hunger strike.
Detainees gave a list of their grievances to jail officials on Feb. 10 and AMOR and FANG received their complaints on Feb. 11, according to a press release from FANG.
Díaz said while FANG is not able to say how long every person has been detained, one of the organization's main contacts has been held at the correctional facility for a month. She said other detainees have told the organization there are people who have been detained for three months.
"I think as a whole, we're asking that the facility itself provides more transparency about what authorization they have to hold people there for extended periods of time," Díaz said. "People are being held there for over 90 days, and if [SCHC] does not have any authorization, then they shouldn't be held there."
In the letter from the ICE detainees in SCHC, they said certain guards are "abusive," use expletive language with them, make fun of them and ignore their complaints. The detainees also wrote in the letter that the food they are given is "bad" and "bland" and comes in unbalanced portions.
They also claimed that some showers are not working, some sinks do not have hot water and they cannot access the bathroom whenever they need to.
Díaz said FANG is urging people to call the Massachusetts Department of Correction and Massachusetts Gov. Charlie Baker to ask them to address the complaints of the detainees.
"They're asking for hot water," Díaz said. "They're asking for an end of abuse from corrections officers. They're asking for more accountability and transparency regarding them being detained there and not being processed on time. All of it is connected, and we hold all of the demands as very important."
According to reports from the Associated Press, a jail spokesperson confirmed that the detainees are refusing set meals but said they are still eating their canteen food and drinking fluids.
Steve Rwema, 24, of Brighton, said he thinks people should "absolutely" support the ICE detainees.
"People's human rights are being abused, and the government has done virtually nothing to impede it or supersede," Rwema said. "I feel it's on all of us individually to reach out, find which organizations we can donate to, who we can contact and how we can help in any way possible."
Rwema also said he does not support ICE and their recent practices.
"To be honest, I feel their tactics of late have been not constitutional and deeply rooted in racism," Rwema said. "Targeting hispanic families, demanding documentation out of the blue, detaining people who even offer the slightest bit of resistance or ask questions. Scare tactics."
Saravanasu Sivaraman, 44, of Allston, said he thinks the detainees should have the right to protest. He also said while he does not think ICE as an organization is bad, he does think the agency currently is in a downward trend.
"Their policies are being politically motivated rather than any real problems that they are trying to solve," Sivaraman said. "It's basically creating a wedge between people, and that's why it's not a good thing. They're supposed to be monitoring people, not prosecuting people, but they are prosecuting people right now."
Angelina Campagna, 26, of Brookline said she thinks it's good that detainees are going on a hunger strike if they are not being treated right. She also said she thinks the United States needs to reconsider some of its immigration laws.
"Things definitely need to change," Campagna said. "I think this should be a safer place for immigrants. I don't think that our immigration laws are right right now. We're founded on immigrants, so why aren't we welcoming them and their cultures."
Joel Lau contributed to the reporting of this article.