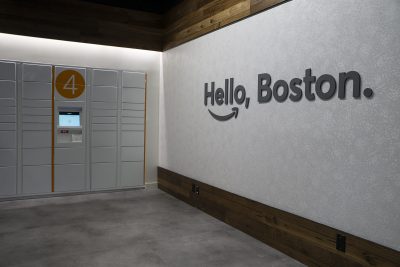 After talk of Amazon's withdrawal from New York City captured headlines and broadcasts earlier this month, a Boston coalition explored ways that Boston could encourage the same caliber of economic growth HQ2 would bring without the headquarters.
"Amazon HQ2 Proposal: What if We Did it Anyway" was hosted Wednesday night in Cambridge by the Alliance of Business Leadership. Six panelists, including business leaders and former government officials, discussed their visions for transportation, affordable housing and employment in the Boston area.
Adrian Walker, a columnist at The Boston Globe, moderated the panel. Walker said he feels Boston is capable of obtaining its goals without help from a big corporation like Amazon.
"Personally I was always slightly offended by the idea that we need an Amazon to fix our problems," Walker said before the event. "I always thought we should be able to do the things we need it for ourselves."
After months of narrowing down potential cities for the new headquarters — of which Boston made the top 20 list — Amazon confirmed its plans in November 2018 to construct its second headquarters into two parts and share the jobs and investment in two locations: Crystal City in Northern Virginia and Long Island City in Queens, New York.
On Feb. 14, Amazon then announced it was cancelling the Long Island City plan. Local opposition about the potential impact on housing prices contributed to the cancellation.
Boston's headquarters proposal for Amazon offered a location in East Boston and Revere, with redevelopments for corporate offices, housing, recreational facilities and transportation enhancements.
Meagan Greene, vice president of policy and operations at The Alliance for Business Leadership, said she saw the panel as an opportunity to look at how to "lift up the people and businesses who are already here" without relying on a large corporation to do so.
She said the organizers started planning the event as soon as Amazon rejected Boston's proposal for the headquarters.
"These are issues that our members care about, that the business community cares about," Greene said in an interview. "Quite frankly, lack of investment in transportation and housing have been hurting the business ecosystem."
ABL is a coalition of about 200 business leaders who believe in socially responsible economic growth, Greene said.
Walker kicked off the panel by asking about what lessons can be learned from Amazon's rejection of the Queens location it had initially chosen.
Rachel Kaprielian, former cabinet secretary for the Massachusetts Executive Office of Labor and Workforce Development, spoke on the panel and said that enterprises should consider how to partner and grow with the community.
"It's just important to know that decisions are always very local, " Kaprielian said in the panel.
Wilnelia Rivera, founder of Rivera Consulting Inc., said residents of Queens opposed construction of Amazon HQ2 because they feared they would be excluded from the economic growth the corporation would bring.
According to David Delmar Sentíes, executive director and founder of Resilient Coders, Boston needs to break the college-circuit trend, in which businesses require higher education degrees for employment. More craftspeople need be welcomed into the city, he said.
This would bring greater workforce opportunity and healthier workforce cycles, he said.
"It's not how many jobs, but who are these jobs going to?" Sentíes said in an interview. "If they were to continue the trend of hiring from outside, bringing a thousand people from L.A., what happens to those individuals who already don't have access to those jobs?"
Chris Santos, a retired arts developer living in Brookline, said she took from the panel that the policy makers and business leaders in the Boston area need to have better communication.
"They're doing their best, but I think part of it is to increase awareness of what are the action items that people can take?" Santos said. "It's one thing to talk, but it's another thing to do. It's important that information trickles down from those people with the knowledge to those people who are willing to act."
Bill Wendel, a founder of The Real Estate Cafe and Real Estate Consultant, attended the panel said he thought the panel format restricted the conversation's potential and compared the panel to a kickoff session of a Hackathon.
He said he thought the audience would benefit more with more opportunities to engage and share ideas with the speakers.
"So this is [a] starting point, not the ending point," Wendel said.