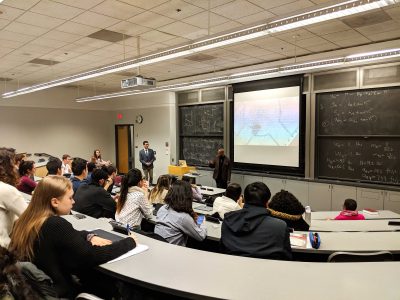 Boston University Student Government discussed the relocation of the Howard Thurman Center for Common Ground with Dean of Students Kenneth Elmore as well as updates to campus dining services at their meeting Monday evening.
Elmore said in the meeting that the relocated HTC will address issues that have been brought up through studies conducted by the university. Elmore said the issues studied include students as a source of negativity, communities having little interaction despite wanting to get together and a lack of trust in the faculty.
The goals of the updated HTC, Elmore said, are to focus on connection, meet new people, grow closer as a community and name critical and civil truths.
"Optimistically and hopefully, the estimated completion date is late September," Elmore said, "but knowing how these things go, it will realistically be October or November."
Elmore added there are no current plans in place for the previous location of the HTC but said he will be reviewing proposed ideas for the soon-to-be empty space in the future.
David Hou, a freshman proxy senator from the College of Arts and Sciences, said he thinks there are pros and cons to the new updates to the HTC.
"I'm a bit concerned about how we spend our money sometimes," Hou said. "We have a lot of decaying facilities that need repair, for example, COM or Metcalf or Mugar."
Scott Rosario, marketing director for BU Dining Services, followed Elmore with a presentation focusing on how Dining Services wants to get in touch with more students in the future.
Rosario said the dining halls tailor their menus to what Dining Services see happening on social media, as well as create menus that celebrate various cultures and holidays in order to keep students interested.
Dining Services is working with SG on a sustainability initiative, Rosario said, that focuses on serving healthy foods with a low carbon footprint.
"For example," Rosario said, "the Starbucks locations on our campus are hopefully going to be one of the first locations in the franchise to have paper straws."
Rosario said Dining Services is also working on creating more places on campus that will accept dining points, but the details of this have yet to be determined.
Kathryn Pollack-Hinds, a freshman senator from the Sargent College of Health and Rehabilitation Sciences, said she thinks the improvements being made to Dining Services will benefit the student body.
Senate Chair Andrew Chiao then opened the floor to motions on proposed constitutional amendments, such as a measure to prohibit SG members from studying abroad during their term. The amendments were discussed and ultimately tabled for further debate at last week's meeting.
SG voted in favor of dividing the updated constitutional amendments into seven proposals, separating the organizational amendments and the amendments that alter Student Government procedures into different proposals.  
They then voted in favor of adjourning the meeting until next week.
"It can lead to frustrations in general regarding procedure because we have other things on the agenda," Chiao said, "but we need to approach it democratically."
Grant Hillyer contributed reporting.