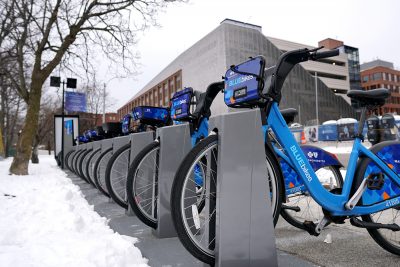 By: Ann Zhang and Nicole Miller
Cities have been at the forefront of mitigating climate change around the world, from Tokyo's Green Building Program that incentivizes environmentally friendly building design, to a new competition at Boston's Museum of Science that encourages undergraduate students to get involved in future sustainability efforts.
The museum announced its "Go Carbon Neutral!" challenge on Feb. 19. Participants in the challenge are tasked with strategizing ways to reduce greenhouse gas produced by Boston's transportation systems. They can do this by addressing energy, fuel, infrastructure, alternative vehicles or modes of transportation, according to the museum's website.
The challenge is open to all undergraduate students in New England and is in partnership with Greentown Labs and General Motors.
Mayor Martin Walsh pledged to make Boston a carbon-neutral city by 2050 when he announced the Carbon Free Boston initiative in 2017. If this goal is achieved, the city will have a net zero carbon footprint.
Last month, the Boston Green Ribbon Commission released a 2019 Carbon Free Boston: Summary Report in partnership with Boston University's Institute for Sustainable Energy that offered strategies to reach this goal.
Although Boston has been long considered among the most walkable and bikeable cities in the nation, where one in three commuters adopt public transportation, the city still requires a major overhaul to realize a carbon-neutral transportation system, according to the report.
As shown in the report, vehicles traveling in and out of Boston account for 29 percent of the city's emissions. Of the 2016 greenhouse gas emissions that came from transportation around Boston, about 75 percent came from private passenger vehicles.
Annette Sawyer, vice president of the museum's Education Division and a BU alumna, said transportation needs some of the most innovative and creative solutions.
"It's an important way of getting the conversation started, getting creative juices flowing and also beginning a conversation with the future leaders who are going to solve these problems," Sawyer said.
Sawyer said if young people in Boston act innovatively, they have the power to create a city of their dreams.
"My call to my fellow BU students is to come participate in this at the Museum of Science and begin making that future that's so important for them to participate in and to dream about," Sawyer said.
Individuals interested in the competition can submit their forms until March 3, and the applications will be reviewed on a rolling basis. All semi-finalist teams will be notified by March 8. Applications can be completed online at the museum's website.
Semi-finalist teams should be comprised of one to four people, and each team will require one student team leader and one adult mentor from their university or college.
There will be a culminating event at the Museum of Science on April 23, where semi-finalists will present their ideas and compete to receive cash prizes and professional opportunities.
Katherine Eshel, the City of Boston's Carbon Neutrality Program Manager, said reducing greenhouse gas emissions has substantial benefits for Boston residents.
"If we're shifting away from burning fossil fuels to fuel our vehicles or heat and power our homes, then we can cut air pollution on the streets of Boston and in people's homes and businesses," Eshel said. "That means we're improving both our indoor and outdoor air quality, and that has huge benefits for public health."
BU's Associate Vice President for University Sustainability, Dennis Carlberg, wrote in an email that he believes the Carbon Free Boston report is the most extensive work done on climate change by any city to date.
"Cities around the world have climate action plans," he wrote. "Few have done the careful analysis necessary to understand what it will actually take to achieve their goals."
Carlberg likewise wrote there will be some obstacles to achieving a carbon-neutral Boston.
"The major challenges are inertia, resistance to change and reluctance to spend money now to save over time," he wrote. "Our community will need to support our leaders so they can make the difficult and controversial policy choices that will lead to a carbon free future as quickly as possible."
College students can have significant impacts on sustainability efforts in their city, Carlberg wrote.
"BU students could really be the driving force to help the City meet its goals by using their skills and knowledge to develop sustainable solutions to current barriers," he wrote.