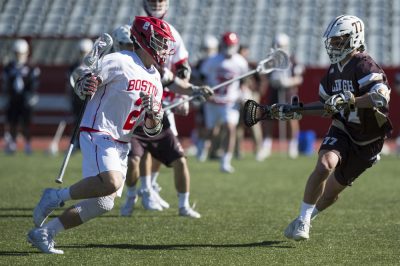 The Boston University men's lacrosse team defeated the University of Vermont Saturday afternoon by a score of 12-4. The Terriers employed a stifling defense to prevent the Catamounts (3-2, 0-0 America East) from generating any big offensive runs.
BU (5-1, 0-0 Patriot League) was in control from start to finish and had their usual goal scorers getting the job done.
Senior attack and leading goal scorer James Burr continued his strong start to the season by putting two into the back of the net. Sophomore attack Chris Gray added a hat trick to fuel the Terrier offense to another impressive showing.
"They're just great players," BU head coach Ryan Polley said. "They both see the field so well."
Polley said opposing defenses pay a lot of attention to Burr, which has opened up the field for teammates to get in on the scoring.
"James has just been so good for us this year as far as drawing the attention of the defense, making timely shots," he said. "As teams start to key in on him he's stepping in and getting his teammates involved."
The Terriers came hot out of the gates, scoring the first two goals of the game in less than five minutes. They would end up scoring two more in the first quarter and held a 4-2 lead at the break.
BU's four goals in the first would have been nearly enough for a win, since UVM only managed to score four total on the afternoon. This was due in large part to the goalkeeping from junior Joe McSorley.
"[McSorley] was really good. He made all the saves we needed him to make," Polley said. "Joe does a really good job of reading the shooters and making the saves. I thought he was excellent in this game."
BU's balance this year has been a major factor in their success. There has not been one, or even two players that opponents have been able to key in on — which showed again Saturday as eight different Terriers got a goal.
"When you get seven or eight guys contributing on a game-to-game to basis, we're a hard offense to prepare for and stop," Polley said.
The Terriers were able to stretch their lead all the way to 11-3 near the beginning of the fourth. This was due in large part to a defense that only allowed 10 Vermont shots over the second and third quarters combined. BU had more goals in the third than Vermont did shots.
"We got out and pressured them and didn't allow them to sit back and survey the defense," Polley said. "I thought we were physical on the ball."
Another bright spot on the afternoon for BU was the play of sophomore midfield Kevin Snyder, who went 10-14 on faceoffs. The Terriers' usual faceoff man, sophomore midfielder Sean Christman, was a little banged up this week — which meant Snyder had a bigger role on the field for BU.
"Kevin Snyder was just incredible," Polley said. "I think it was the number one factor in us winning the game, going 10-14."
BU has a full week to prepare for their next match, which will be away at Colgate University next Saturday. The Raiders (2-2, 0-1 Patriot League) will be the Terriers' first conference test of the season.
Polley said he is happy with how his team has been improving week after week.
"We're getting better at the right time," Polley said. "Over the last four to five weeks, we've gotten better each and every week."