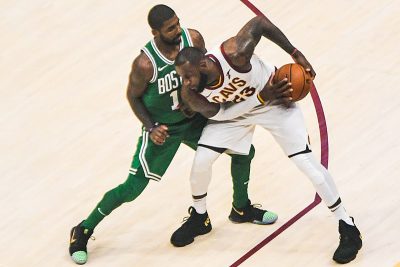 The Boston Celtics season has turned into an all-out disaster. The priest is on his way to administer Last Rites. After losing five of six games after the All-Star Break, things are getting bleak in Beantown.
Coming into this season, the Celtics were the favorite to come out of the East. Now, I wouldn't even pick them to come out of the first round. In the past few weeks, there has been nothing to point to on the court that says otherwise.
Overall, the team just isn't playing together or for one another. Offensive possessions turn into dribbling sessions, and defense seems like a foreign concept.
They go on stretches where playing the game seems like a chore. The 36-13 second quarter in Toronto comes to mind, as does the 65-43 halftime deficit against the Houston Rockets on Sunday. Houston ran up and down the floor, finding wide-open threes and layups for 24 straight minutes.
Very often, there is no spark until it's too late. For all that is preached about turning things around after another loss, it all disappears once the next game begins.
The Celtics may have the most talent in the Eastern Conference, but talent can only get you so far. Almost everywhere you look on the roster, there are flaws.
The most glaring and public of them all is Kyrie Irving's leadership, or lack thereof. Nearly every day for what felt like a month, Kyrie would make some sort of comment undermining the young players on the team. By the way, he's 26.
One night he called LeBron James to apologize for being "that young player that wanted everything at his fingertips." Another night he explained how hard it is to be a leader. Not to mention hanging over all of this is the uncertainty over this summer's free agency and whether Kyrie will follow through on his commitment to Boston.
Kyrie is still putting up the numbers with an average of 22.3 points, 6.8 assists and 5.0 rebounds per game since the All-Star break, but for as far as his comments about getting to the playoffs and no one being able to beat the Celtics in seven games, there is nothing to support that. He looks like someone who knows he will be gone in a few months.
This doesn't all fall on Kyrie, though. Brad Stevens' rotation continues to make less and less sense as the season continues. First off, anyone with a pair of functioning eyes can see that Jaylen Brown is playing harder than anyone else on the roster. Why he hasn't been inserted into the starting lineup is a mystery to me.
Since Feb. 1, Brown is averaging 12.8 points and 4.7 rebounds in around 25 minutes per game. In that same span, starter Marcus Morris is averaging 12.3 points and 6.1 rebounds in about 29 minutes per game.
Not a huge difference, but maybe moving Morris to the bench, where he excelled in the playoffs last season, and putting Brown in the starting lineup, where he also excelled in the playoffs last season, would give the team a spark.
Gordon Hayward's inconsistent play has also been an issue. Granted, he is still working his way back from the season-ending leg injury last season, but some games he looks great and scores 20 points or more, like in the win against Philadelphia. Then in others, like every game since the All-Star Break, he never looks for his shot and is very passive.
On most nights, it is easy to tell which Hayward the Celtics are going to get. If it's bad and passive Hayward, like the one who took three shots in 27 minutes in the loss to Portland the other night, then maybe maybe he shouldn't play 27 minutes.
That brings me to two of the biggest mysteries that has plagued the team all season. The first being, why is Terry Rozier still on the team? He was great in the playoffs last year when Kyrie went down, and this year he has been terrible in a backup role behind Kyrie. There seems to be an easy fix.
The Suns clearly had interest in a Rozier trade. The Celtics should have had interest in moving a guy that doesn't fit on the bench. Yet, Danny Ainge refuses to give Terry the chance that he wants and go through a trade that couldn't do anything but help the team.
Rozier has been rumored to have complained about his minutes, and in the minutes he does play he contributes very little. Rozier has denied these rumors himself. It's time to move on and give Rozier a chance to start on another team.
Even if Kyrie Irving leaves, Terry Rozier is not the point guard of the future. He is a restricted free agent this summer, and all signs point to him bolting the first chance he gets. The Celtics should have set Terry free.
The second mystery I can't seem to wrap my head around is why Jayson Tatum continues to be the third or fourth option on offense in almost every game. I don't know why he struggles to take over games and, at times, refuses to go to the rim.
Like Jaylen Brown, Tatum was spectacular in the postseason last year. He went toe-to-toe with LeBron James in Game 7 of the Eastern Conference Finals.
This year, after Kyrie, he should have been the legitimate second option that carried the Celtics for large stretches of the game. Instead, sometimes he'll have a hot start, sometimes he won't, and then we never hear his name again.
Tatum clearly has the talent and the array of moves to get good looks, but he isn't someone who commands the ball. Like many others on the team, he seems disconnected from the action when things start to go south. It probably doesn't help that the Celtics are shopping him in a potential Anthony Davis trade, but even before those rumors it was a problem.
An average of three free throw attempts per game for Tatum is horrendous. A guy like him should be getting to the line three times a game at the minimum, not once or twice. I think he'll get there eventually, but after last year's stunning rookie season, Tatum has not made a gigantic leap if any leap at all.
As the season winds down, things only start to look worse for the Boston Celtics. They sit 2.5 games behind the 76ers for the No. 4 seed and are about to embark on a four-game road trip against four tough opponents. It might not be a good idea to stay up past midnight to catch the Celtics on the West Coast. Things might get even worse.