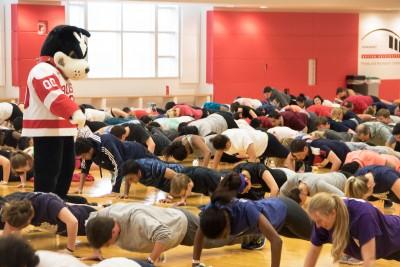 Boston University launched an email wellness program that sends weekly information and resources to students, according to a press release from BU's Student Government.
The program, run by SG's Department of Social Advocacy and the BU Wellness and Prevention Center, began Feb. 15 and will run through March 18.
The email is composed of strategies for students to implement into their daily lives, covering topics such as how to get better sleep and study more effectively.
"This initiative teaches skills, inspires students, and allows them to put their wellbeing at the forefront of their agenda," the release stated. "The Wellness and Prevention Center will send materials and resources to students each week to promote wellness and help them make healthy choices."
SG spokesperson Sydney Gullett wrote in an email the purpose of the wellness challenge is to encourage students to put their wellbeing and mental health at the forefront of their busy agendas.
"BU students are extremely hard-working, so sometimes mental health and wellness takes a back seat," Gullett wrote. "However, with the Wellness Challenge we are hoping to change that. This initiative will provide students with the resources to navigate wellness and being healthier."
BU spokesperson Colin Riley said he thinks supporting students' mental health is important for the university community.
"I think it's extremely valuable that BU is promoting mental health awareness for its students and being more proactive about mental health," Riley said, "which wasn't a topic that used to be talked about, but is much more common now."
Keziah Yobo, a sophomore in the Questrom School of Business, said he had not heard of the initiative, but is glad BU is helping students deal with the stresses of college life.
"A lot of kids go through a lot of things in college, and who don't know how to deal with it," Yobo said. "If there's a center or program that is going to help students deal with what they're going through, I think it would make college a lot better."
Hillary Rogers, a sophomore in the College of Communication, said she thinks college can be a busy time when mental health is not a priority and would be interested in SG's initiative.
"A lot of times in college, mental health gets pushed to the backburner, especially with all of the things we have to juggle," Rogers said. "I would definitely encourage people I know, as well as probably go myself to check it out."