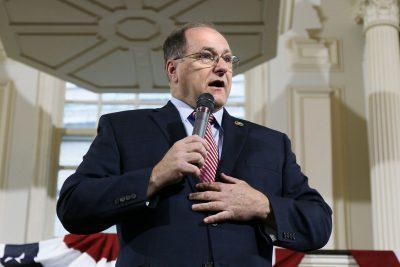 Former U.S. Rep. Michael Capuano joined Boston University's Initiative on Cities Monday as a Senior Urban Leadership Fellow, where he will assist the IOC with programs and lead a speaker series on urban transformation.
Capuano began his career in Somerville as an alderman and then served as mayor of the city from 1990 until 1999. He was elected to the U.S. House of Representatives in 1998 and served Massachusetts' seventh district until 2018, when he was defeated in the Democratic primary by former Boston City Councilor Ayanna Pressley.
On Friday, Capuano announced he would be joining the law firm Foley and Lardner LLP as a public affairs director, according to The Boston Globe, in addition to his position at the IOC.
Capuano said he was directed to the IOC position by BU President Robert Brown, who suggested he speak to Graham Wilson, the center's co-founder and director.
"We thought it might be a good fit," Capuano said, "might be some fun and maybe I can have something positive to offer."
Capuano said he hopes his experience in local government, congressional politics and law will provide insights to the students he will work with at BU.
"My interest is in the intersection between academic pursuits and real life politics," Capuano said. "It's one thing to decide what should be done. It's another thing to be the one implementing what can be done, and the two don't often match."
Climate change, Capuano said, is an example of an issue that many people know a great deal about, but not many people know how to actually solve.
"You can get 10 thoughtful people in a room and come up with an idea of what you should be doing about climate control," Capuano said. "But if you get 10 mayors in a room and say, 'Well, this is what we should be doing,' they're probably going to look at you and say, 'Well, where do we get the money, where do we start?'"
Capuano added it is important for universities to have programs such as IOC, where students can learn real-life problem solving skills.
"If you're going to be an academic institution and all you're going to do is an ivory tower, a 50,000-foot look at life, I think you're going to graduate students who are less marketable and have less of an understanding of how life really works," he said.
Michael Egert, a freshman in the College of Arts and Sciences, said he thinks it is important to have staff members, such as Capuano, with experience and knowledge at BU.
"I'm sure students will find the [IOC] and whatever they're learning to be more topical and more relatable to their own lives," Egert said. "I think he will bring a good rapport to the university, and I think he will be overall helpful to the university and his department."
Austin Vargas, a CAS senior, said BU's ability to draw notable politicians to the university is a testament to the school's presence in the Boston area.
"That's a pretty big draw to have a political figure join your staff," Vargas said. "I'm guessing if he's a politician here locally, he probably has some knowledge on city planning and activities, so he might be able to add to the conversation in that sense, as well."
Shelia Phillips, a junior in CAS, said she likes that BU has a former politician on its staff and doesn't think his political leanings will be an issue in such a liberal city and university setting.
"I definitely think it's good because it attests to the clout the university claims to have," Phillips said, "and it shows that we are being taken seriously."
Mia Cathell contributed reporting.