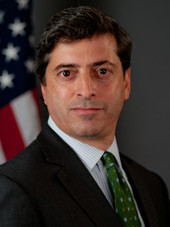 By Audrey Martin and Alex LaSalvia
The Boston University School of Law announced Tuesday that Robert Khuzami, a LAW alumnus and current Deputy U.S. Attorney for the Southern District of New York, will deliver the school's 2019 commencement address.
Khuzami has worked on prosecution cases against Michael Cohen, ex-counsel to President Donald Trump, and Omar Ahmed Ali Abdel Rahman, an operative of an international terrorist organization responsible for the 1993 bombing of the World Trade Center.
Jeremy Thompson, assistant dean of communications and marketing for LAW, said it is exciting for the school's faculty to be able to bring back an alumnus who has accomplished so much in his field.
"[Khuzami's] impact on the law over the past several decades has been tremendous," Thompson said. "We thought that his background and experience, as well as his position as an alum of the school, made him a tremendous choice for coming in as a commencement speaker this year."
Khuzami graduated from LAW in 1983 after attending the University of Rochester in New York for his undergraduate studies.
Samuel Howard, a second-year law student, said he thinks Khuzami is a good choice for commencement speaker despite his involvement with current political issues.
"In my experience with the student body, I think the choice is fairly reflective of the political beliefs of the student body," Howard said, "so I don't think it's an incredibly controversial decision. That being said, just because he's been involved with these cases, this doesn't necessarily make him a partisan figure."
Casey Berger, a first-year law student, said she thought it was impressive LAW was able to get an important figure like Khuzami to come speak, and that she didn't mind his political affiliations.
"I feel like chances are if you're choosing someone whose relevant nowadays they're going to have a prominent role politically one way or the other," she said, "so I don't think that's overly surprising."