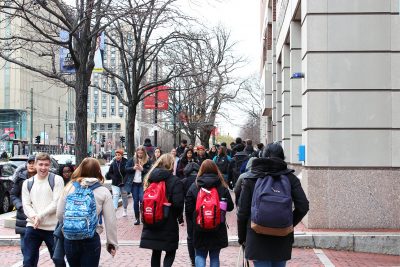 By: Elsa Scott and Ann Zhang
It takes about 30 minutes to walk the length of Boston University's Charles River campus, spanning from Kenmore Square to Packard's Corner. The MBTA Green Line and buses run on Commonwealth Avenue alongside the BU Shuttle throughout the day, but many students choose to travel between their classes on foot.
BU implemented a policy in 2016 that allocated 15 minutes of passing time between classes. The policy also included scheduling regulations such as requiring that schools and colleges not schedule more than 50 percent of their courses on Tuesdays and Thursdays.
Before this policy change, classes were often separated by just 10 minutes, said Kris Gilchrist-Minasidis, the director of the University Service Center. While some students noted they feel the extra five minutes are helpful when classes are consolidated in one area, this policy has been met with a lukewarm reception, Gilchrist-Minasidis said.
With the 15-minute passing period, Mackenzie Hall, a junior in the College of Engineering, said she often finds herself rushing and feels it can be dangerous when the cold weather is in full force.
"When it was rainy or icy, I had to walk faster than I wanted to," Hall said. "You know that metal strip on the bridge? I almost slipped on that like four times."
During bad weather, Hall said taking the BU Shuttle seems like the best option, but the bus was "never on time." She recalled having to travel between the College of General Studies and the Kenmore Classroom Building in 15 minutes, a walk that, according to Google Maps, takes 21 minutes.
"I feel like 15 minutes would be appropriate, but because our campus is so long, there are extreme cases where it doesn't work," Hall said.
Carolyn Bean, a freshman in the College of Arts and Sciences, said the time needed to commute between classes can also affect which courses students take.
"I like to be able to talk to my professors after class, so with most of my major classes, I tried to keep them at larger intervals," Bean said. "I have a professor who doesn't seem to understand the concept of when the end of class is, so that can be a little stressful."
Yuekun Liu, a graduate student studying biotechnology, said he had issues getting to class in CGS on time from the Metcalf Center for Science and Engineering his freshman year, but his professor was understanding.
The professor moved quizzes to the end of class, he said, so most students would be present.
Edward Loechler, a biology professor in CAS, said he taught a class in CGS for the first time last semester and realized the location led to issues with timing. He posted notes and recorded lectures online, as he noticed some students could not make it to his class across campus.
Loechler said students could use bikes to commute to class or the university should promote a bike rental system. He said he chooses travel to and across campus on his bike.
"I mean I wish all students had bicycles and could do that and at least leave it as an option," Loechler said. "You could have a significant number of rental bikes up at West, up at BU Central and another at BU East. I think that would be tremendously helpful."