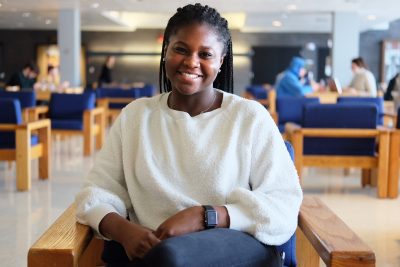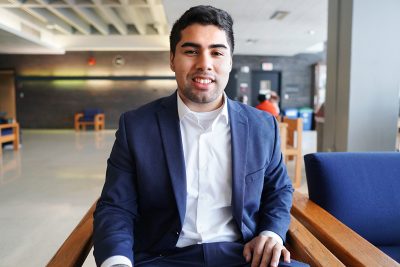 The race for Student Government president is officially underway, with juniors Augustine Jimenez and Hafzat Akanni both announcing their candidacies for president this week.
University-wide SG elections will occur March 31 through April 7, meaning Jimenez and Akanni, along with their respective executive board slates, will be campaigning throughout the month of March.
Jimenez, running with the slate YourBU, is a junior in the College of Arts and Sciences studying International Relations and Arabic. Jimenez served in SG as the chief of staff for the executive vice president in the fall and said he's been wanting to run for president since he was a freshman.
"I just saw that there were issues on campus that I'm really personally very passionate about," Jimenez said. "One of them is how to best support first-generation students on campus."
In his time working with SG's executive board last year, Jimenez said he began to notice a deteriorating relationship between the e-board and Senate.
"I felt that there were initiatives coming out of Senate and coming out of e-board, and if they just manage to work together, I think you could really empower BU students and you could really have a much more positive effect," he said.
Jimenez said he wants to continue building upon the ideas and projects the current SG e-board and Senate have already been working on, such as the menstrual product initiative and getting another spring concert for 2020.
"I think that some people might look at our platform and say that we're recycling old initiatives and that we're not coming up with anything new," Jimenez said. "But I disagree, because I think that there's really good work happening in Student Government, and we want to take the good work that's already being done and continue it and also bring new ideas and new initiatives, as well."
One of Jimenez's ideas is to create a mental health awareness day at BU to bridge the gap between students and administrative resources on campus.
"We want to bring expert advice and bring in Student Health Services' Behavioral Medicine and SARP, as well," he said. "But we also want to bring student groups and have expert-led panels as well as workshops led by students."
Jimenez's slate includes three CAS sophomores — Mercedes Muñoz, who is running for executive vice president, Nada Shalash, running for VP of internal affairs, and Norman Toro Vega, running for VP of finance.
"A big theme that we're trying to bring in is just a fresh perspective," Jimenez said. "We might have been involved in Student Government before, but I think that we can bring new ideas and also continue the good work that is already being done."
Hafzat Akanni, running with the slate EmpowerBU, is a junior in CAS studying international relations and African American studies. Akanni is the current executive VP under SG President Devin Harvin and said she couldn't imagine being a senior at BU and not being involved in SG.
"There's still so much that I want to help accomplish here," Akanni said. "I've always loved BU, that's why I ran for vice president, but being in it this year made me see the work that was done to impact students' lives across campus."
Akanni said seeing how much her current e-board has been able to accomplish in one year made her excited to see what she could accomplish next year.
"Knowing that there is work that still needs to be done, I do feel like I'm the best person to do it," she said.
Akanni said her platform focuses on empowering students, which ties into her campaign logo: two connecting power plugs with "EmpowerBU" written in the middle.
"EmpowerBU is used in the middle for a specific reason," Akanni said. "It's in the middle because we hope to be that connected force that connects the university so that we can continue efforts to empower the university."
Akanni said she wants to empower academics by implementing two programs — one being a system in which if a professor assigns a books for class, they have to provide the library with four or five copies on reserve for students who don't have the funds to purchase the book for themselves.
"That way those who can't afford the book don't feel the stress to buy the book, but they know that, 'Hey, if I take this class with this professor and the book is on reserve, I know where I can find it,'" she said.
Empowering international students is also something Akanni said she wants to focus on.
"We hope to work with the International Student and Scholars Office to discuss the state of international students here at BU," Akanni said. "Why is it that international students are constantly getting the short end of the stick when it comes to jobs, housing, scholarships and internships?"  
Two members of the EmpowerBU slate are international students: Jessica Zheng, a CAS freshman running for VP of internal affairs, and Neha Iyer, a junior in Questrom, for executive VP. Lukas Flores, a sophomore in the Questrom School of Business, is the slate's candidate for VP of finance
If Akanni is elected in April, she said, she will be the first female African American SG president in BU's history.
In additional to academics and international student affairs, Akanni said she also wants to work on reducing BU's carbon footprint and making sure SG retains the tradition of having a spring concert.