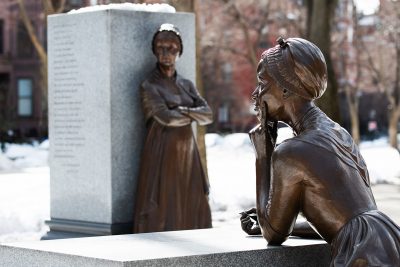 March is Women's History Month, and the City of Boston is holding events to commemorate women's achievements and advocate for greater female empowerment in the city. Officials and activists emphasized many steps still need to be taken to achieve full gender equality in the city.
The City's Office of Women's Advancement and Mayor Martin Walsh will be hosting a celebration of International Women's Day on Friday at Boston City Hall. Speakers will be "be honoring women's voices and contributions while recognizing the work still ahead," according to the City's website.
On March 19, the City is presenting a talk titled "Women in Leadership: Massachusetts Trailblazers" that will feature various Massachusetts women politicians detailing their journeys to civic leadership.
Speakers will include Boston City Council President Andrea Campbell, Salem Mayor Kim Driscoll and State Rep. Hannah Kane of Worcester.
Tania Del Rio, the executive director of the Office of Women's Advancement, wrote in an email that Boston is working toward achieving gender equality through economic equity and support of the childcare sector, ending commercial sexual exploitation and trafficking and representing women's contributions to public life.
Sara Raab, the program director for Girls' LEAP, a nonprofit that provides empowerment, self-defense and mentoring classes for young girls, said the organization has been involved in celebrations for International Women's Day.
Raab said she would love to see a greater emphasis on and increased funding for violence prevention training — particularly for children and youth in Boston's public schools.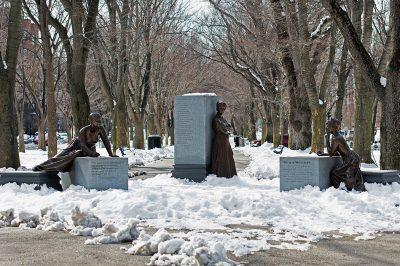 "A lot of students that I work with throughout Boston schools don't get comprehensive sex education and much less relationship education," Raab said, "and as a direct result, they get involved in unhealthy or abusive relationships at a very young age."
Raab said this prevention training should be taught to students of all genders and that the government should be doing more prevent the spread of sexual violence.
"Sometimes it's girls perpetrators, sometimes it's boys," Raab said. "I would just really love to see more attention paid by Boston City government and the state in general for what is a very preventable health crisis."
Tricia Wajda, vice president of external affairs at the Planned Parenthood Advocacy Fund of Massachusetts, said in an emailed statement that in order to advance women's equity in public health, Massachusetts and the City of Boston needs to do all they can to protect women's access to abortion.
"The right to safe, legal abortion is at risk in our country, and even in Massachusetts the constitutional right to abortion does not translate into access for all people," Wajda said in the statement. "Stigma and political interference have built barriers to sexual and reproductive health for all people."
Wajda said discrimination against disadvantaged minorities has worsened the threat on women's reproductive health and that Massachusetts must take more steps to abolish these restrictions.
"Young people, people with low incomes, people of color, and LGBTQ folks face even higher barriers to care due to systemic and institutional discrimination," Wajda said. "Persistent unjust barriers to abortion force Massachusetts residents to face down a gauntlet of obstacles in order to make the decision that is best for them."
John Pedican, 38, of West Newton, said he agreed that the government needed to devote more money to women's rights, as women have been discriminated against throughout history.
"There should be state funding for these issues, only because I think women have been exploited and placed in a disadvantage in terms of competitiveness for so many decades," Pedican said. "In order for them to have a level playing field, there must be some catching up."
Boston resident Daryn Stevens, 22, said she thought the local and state governments could do a better job at supporting and funding efforts to bolster women's rights.

"Definitely I think there should be more funding for women's issues," Stevens said. "The more funding, the more hands-on help they can get, the better."