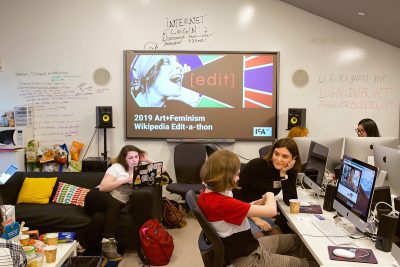 Less than 15 percent of all the biographies on Wikipedia are about women, and only 16 percent of Wikipedia editors identify as women, according to Monica Garza, director of education at Boston's Institute of Contemporary Art.
The ICA's fourth annual "Wikipedia Edit-a-Thon" invited the public to the Seaport-based museum on Sunday to help increase the representation of women and gender non-binary people on the website.
Sunday's edit-a-thon was also a celebration of International Women's Day, with the goal of helping to "close the gender gap in Wikipedia articles and editors," the event's website reads.
Tucked onto the second floor of the ICA, a handful of editors gathered together in the Paul and Phyllis Fireman Family Digital Studio. Scribbles of wall art and wi-fi passwords were displayed on the room's white walls, juxtaposed against a communal table of Apple desktops used by the editors.
At the "Wikipedia Edit-a-Thon," attendees created new Wikipedia pages or edited existing pages for female-identifying and gender non-binary artists who are part of the ICA's past or future exhibitions.
Some of these artists include Huma Bhabha, Kara Walker and Diane Simpson, according to Sarah Hachey, the museum's interpretive media and adult education coordinator.
Wikipedia edit-a-thons are held throughout the year in cities across the world. The events are organized by the "Art+Feminism" campaign, which is based out of the Museum of Modern Art in New York, according to the movement's website.
Equipped with digital and print resources, the editors at the ICA Sunday gathered on a black leather sofa against the tinted windows to hear Anna Kolesova, an adult learning fellow at the museum, teach them the editing process step-by-step.
"An edit-a-thon is a campaign that is created to combat gender biases and it focuses on the arts specifically," Kolesova said in an interview.
This year's Art+Feminism Edit-a-Thon campaign focused on "gender and the non-binary," inviting people of all gender identities and expressions to attend, according to the Art+Feminism Facebook page.
Hachey said women, transgender people and other non-binary people should be able to have equal representation, both as Wikipedia editors and the subjects of Wikipedia articles, compared to their male counterparts.
For example, she said she didn't expect that Marlene Dumas, an artist whom she had known for a long time, would have merely a blurb on Wikipedia.
"She seemed like a really important figure with her paintings, so I was surprised to see how short her article was," Hachey said.
She added that Wikipedia serves as a gateway for the general public to get a general, neutral overview of an artist.
"I think what's so great about Wikipedia is that it's a great starting source," she said. "It's a great starting off point for self education."
Anastasia Yandulskaya, a graduate student at Northeastern University, said because her background lies in science, she was interested in attending the edit-a-thon to learn more about the Wikipedia editing process and help other women scientists get more online exposure.
She expressed her excitement and apprehension to create a new Wikipedia page about an artist. The process involves taking information from the depths of Google searches, she said, and putting it together to give the artist more online visibility and honor their work.
"It feels like I'm an agent of knowledge almost," Yandulskaya said. "It feels like a lot of responsibility, as well."
Attendees were encouraged to edit Wikipedia articles with a non-English language if they felt comfortable, Kolesova said, adding that she she had plans to edit a Wikipedia article in Russian.
In line with the day's focus on feminism in art, Liz LaManche, an artist from Somerville, said she attended the edit-a-thon to learn more about underrepresented women artists and to give them greater exposure online.
"I believe in increasing representation in Wikipedia and adding more material and making better quality material about women and artists," LaManche said. "Women have been traditionally underrepresented or their works have been given less input, especially in the art world."