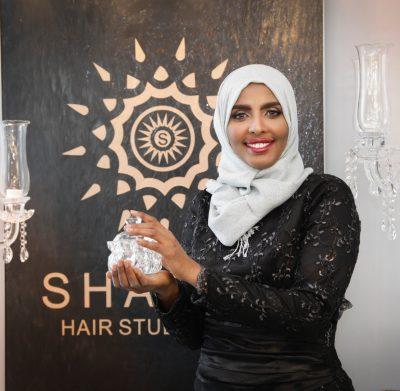 Shamso Ahmed said she was only 10 years old when she came to the United States from Somalia and 12 years old when she first wanted to own a hair salon and spa.
She said she imagined it to be a huge, grand space where women of all ethnicities and backgrounds could find beauty and relaxation. On Feb. 23, she saw part of that dream become reality.
Shamso Hair Studio and Spa, located in the South End, is the first women's-only salon in Massachusetts. With shaded windows and a camera monitoring the outside, she said she wanted to create a private, safe space for women.
While Ahmed said her business concept has attracted much attention from around the country, she said she is really doing nothing new.
"There are plenty of Muslim women out there who are successful business owners — I'm not the first one," she said. "I have the first [women's] salon in Massachusetts, but I'm following in the footsteps of those before me."
Ahmed said she wanted to help disprove the stereotype that Muslim women cannot be successful business owners. She said her mother, who owned both a restaurant and a grocery store back in Somalia, played a key role in her life and served as inspiration.
"My mother has been a huge support for me, she's just a really bright business woman," Ahmed said. "Even though she does not have an operating business right now, she's someone that I consult with when I'm a little bit stuck or need different ideas."
Yusufi Vali, director of public affairs at the Islamic Society of Boston Cultural Center, said in a press release Ahmed's faith played a crucial role in her decision to open the salon.
"The Prophet Muhammad's wife, Khadijah was an entrepreneur," Vali said. "Shamso is living that legacy of Muslim women entrepreneurs in our tradition, and through her example, she is inspiring so many Muslim women to get into business. Our whole congregation is proud of her."
Ahmed said her business is encouraged by a strong support system. She said a woman from Rhode Island drove in for a hair appointment, despite a snowstorm the night before, and people from Worcester are scheduling appointments, as well.
This salon is not Ahmed's first business — eight years ago, she founded the International Translation Company in Roxbury. She said she first noticed her community's need for translators when she was a young girl interpreting for her parents at their doctor's appointments and when volunteering in the community.
Ahmed went on to get a degree from Northeastern University and eventually open her own business to help meet this need.
"I always had a passion for languages, my goal was to learn as much as I could possibly do," Ahmed said. "More than anything, I really wanted to help deliver quality services to the immigrant community."
She said her translation company now has eight full-time staffers and almost 700 interpreters offering their services in more than 100 languages. About two years ago, she said the business outgrew its location and had to relocate. The former location now serves as the salon.
Naima Awmaalim, the store's manager, said she came to work at the studio after spending seven years as a makeup artist with Too Faced Cosmetics, a national makeup brand.
"I knew Shamso, so when I used to work for Too Faced, we formed a close friendship," Awmaalim said. "… I decided to work with her because she's an amazing person, she has a great personality, and she treats people fair. That is who I want to work with."
Awmaalim said she also came to the United States from Somalia at a young age. Since then, she has lived in various states and, she said, embraced the opportunities each has offered her.
"We had money and businesses, but when the war happened, they stole everything," Awmaalim said of herself and her family. "So having nothing, then coming here where there's so much opportunity, you can make your life nothing, or you can make your life something because you have the opportunity."
Awmaalim said she started doing makeup at age 18 for her friends. When she married and moved to Maine, her former husband suggested she go to cosmetology school. She has been working in the cosmetology industry for the past 11 years.
"I came to Boston because there's a lot of opportunity here — this is perfect for me because I want to grow," she said. "Here, we are in a big city, and we have so many different people, and I like that, and here I am working at Shamso Salon."
In addition to hair services, Shamso Hair Studio and Spa offers services in henna, makeup, nails, hijab wraps and a hammam spa — an extensive process that involves a steam room, traditional soap and an exfoliating massage to remove dead skin.
Ahmed said she also wanted to incorporate wellness and fitness into the spa's services. In the future, she said she hopes to organize fitness groups that meet every few months with a health coach to learn about health and wellness.
"So I grew up right here in Roxbury, and there's not really healthy food," Ahmed said. "A lot of the population here struggles with diabetes and high blood pressure, but those are all from what they're taking in. I want to talk to them a little bit more so they can learn more about themselves and their bodies — not just their hair or their skin, but more so how we can help them internally, so we can really help them feel good about themselves."
Ahmed said she is looking to serve healthy snacks and Somalian tea at the salon in the future and possibly start a running group in the spring. Looking at the larger picture, she said she wants to open 10 more international locations.
Malika Kounkourou, a freshman in Boston University's Sargent College of Health and Rehabilitation Sciences, said she was "ecstatic" when she heard about the salon.
Kounkourou said she has had trouble in the past trying to find salons with a blocked area for her to remove her hijab without worrying about men and outsiders entering.
"I think it's great to see more Muslim-friendly spaces in the city," Koukourou said. "This step very much works to elucidate the importance of representation in all work forces for all peoples."