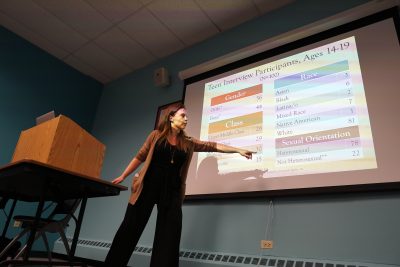 Teenagers across the country use social media to voice their opinions, though not always to spread positivity. A lecture hosted by the Boston University Department of Sociology Monday explored the influence of Twitter on bullying, specifically regarding the LGBTQ community.
In the talk, titled "Twitter Wars & Culture Wars: Teens, Tolerance and the Anti-Bullying Era," Sarah Miller, a lecturer in the Department of Sociology and the Women's, Gender and Sexuality Studies Program, discussed the "invisible" bullying she observed during her 18-month fieldwork in a rural high school in the Northeast.
At the high school, Miller interviewed 100 teenagers ages 14 to 19 and observed 75 students' public use of social media, she explained in the lecture.
Miller discussed the case of a young bisexual girl who was the target of multiple attacks on Twitter. The tweets did not specifically identify the targeted subject, Miller said, so they could not be recognized by adults who did not know the underlying context.
According to Miller, targeted subjects often feel like they are being observed and judged all the time by their peers, yet parents and administrators are often unaware of online harassment.
Adults' definitions of bullying are typically clear, Miller said, and include making threats, spreading rumors, attacking someone physically or verbally or excluding a certain person from a group.
However, students today often experience types of bullying that their parents are unfamiliar with, Miller explained. Because online bullying can be harder to identify than in-person bullying, some students struggle to report harassment.
"You can't always tell the teacher because it's barely there," Miller said.
Some students also contribute to bullying by choosing to be bystanders, Miller said. Some students she interviewed said they allow bullying to happen instead of taking action because they were unsure of how to deal with it, she said.
Miller found that one group particularly targeted by online bullying is LGBTQ students, which is partially due to a lack of education. In her study, she found neither the school nor parents provided enough education about diversity of sexual orientation and gender identity.
Based on her interviews, Miller said she also found students could benefit from social media by using it as an educational tool. Miller explained that in some cases, students used Twitter to broaden their knowledge and embrace diversity.
Miller cited a tweet by one of her interviewees, in which the student wrote, "There's nothing immoral about two people loving each other," in reference to the U.S. Supreme Court ruling in favor of gay marriage.
According to Miller, administrators did not take actions to address the bullying LGBTQ students were facing. Discussions on Twitter can be more positive than the school's tolerance code and anti-bullying policies, she explained.
"We can work toward making schools not just tolerance and anti-bullying zones, but sites that are empowering and embracing of marginalized students, and that inspire and instruct all of us how to combat inequality together," Miller said.
Kelsey Harris, a fourth-year doctoral student studying sociology in the Graduate School of Arts and Sciences, said she was glad to see Miller calling attention to the power of social media among teens.
"It is not something that is talked about very frequently on stage since it's in very small circles, and I think bringing it out to the large historical discourse is important," Harris said.
Sociology Department Chair Deborah Carr, who helped organize the event, said Miller provided a unique perspective on the effects of social media.
"I think her work kind of challenges the notion of the internet as a wholly dangerous place, and as a tool that young people can use to assert their own power and their own initiative," she said.
Carr said the topics forwarded by BU sociology faculty are timely, and professors are willing to share them with both scholars and those who are interested in understanding human lives.
"Despite the tremendous strides made by the LGBTQ community, we still have a very long way to go," Carr said. "It kind of sends a wake-up call that greater awareness and education is needed about gender nonconforming youth."