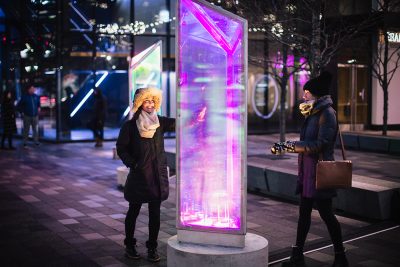 Twenty-five glowing prisms that tower over 6 feet tall stand scattered in between shops and restaurants throughout Boston's Seaport Boulevard. Passersby engage in the pillars' changing colors, lights and sounds.
The Seaport's latest interactive art installation,"Prismatica," is open and free to the public at Seaport Boulevard until April 1.
Debuting Feb. 9, "Prismatica" was created and installed by the company RAW Design in collaboration with ATOMIC3.
Debra Brodsky, the senior head of marketing for WS Development's Seaport branch, said they partnered with Creos, a Canadian production company that organizes artists to bring their creations to different urban spaces in cities around the world, to create the installation this winter.
Brodsky said Creos also brought to life the "Seaport x Impulse" last winter, which became a popular spot for Instagram photos. Brodsky called "Prismatica" the "2.0 of the Seesaw."
Creos brings interactive, outdoor art to Montreal, as well as in other cities where winters are long, dark and cold, Brodsky said. As such, the Seaport's management team thought their installation would work well in Boston.
"We get to give the district a playful atmosphere," Brodsky said, "and make it a fun place to be during a tough time in the year."
Brodsky said she and her team worked with Creos to install the prisms along Seaport Boulevard, strategically scattering each pillar throughout different parts of the district for a more impactful experience.
Some prisms can be found next to the Starbucks while others are in a central courtyard. Stumbling across artwork in every direction in the area offers a little pinch of beauty and mysticism to Seaport, Brodsky said.
Due to the dichroic film that laminates the prisms, observers can see every color in the visible spectrum as they move. Each pillar can be manipulated to spin and reflect different lights and colors depending on its position. Brodsky said she and her team worked to make sure every single panel and pillar was connected to electricity.
People come from all over Boston, even during the cold winter months, to take photos and experience the light reflecting effect, Brodsky said.
Nine years ago, the Seaport district was composed of parking lots, warehouses and rotting piers, according to Urban Land Magazine. New commercial buildings, condominiums and apartments have since taken over the area.
With new buildings and storefronts, the former space filled with parking lots is now a much livelier and welcoming space, Brodsky said.
Art installations such as "Prismatica" and the "Seaport x Impulse" are intended to draw more people to district and explore the new developments in the area, Brodsky said.
"It's hard to program things that are interesting that get people to come outside, and this really succeeds in doing that," she said. "From the marketing perspective, it just helps us keep people engaged in the community, even in the winter when people tend to retreat a little bit inside."
Lizzy Fitch, a 2016 graduate from Worcester Polytechnic Institute, said in an Instagram direct message that she visited "Prismatica" with a friend in February.
"We saw the prisms when we parked so we made a mental note to go back," Fitch wrote. "At first we saw them in the daytime and they were cool but after dinner … we went past them again and they were way cooler at night."
Fitch posted photos of "Prismatica" on her Instagram account.
"The light refracting was cool and the geometric figures they created with the different colors of light," she wrote.
Evan Yee, who graduated from Boston University's College of Communication in 2016, said he was walking down the Seaport Boulevard on his way to meet up with friends when he noticed "Prismatica."
"They always have new art exhibits around here, and a lot of my friends like to take pictures," Yee said. "I think last year they had the glowing swings. Those were really cool."
CORRECTION: A previous version of this article mislabeled "Seaport x Impulse" as "Seaport Seesaws." An updated version reflects this correction.