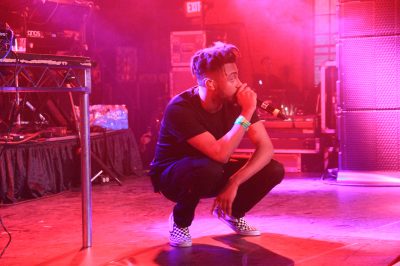 Tickets for "802.1," Boston University's upcoming spring concert featuring Aminé, go on sale at 10 a.m. Friday morning for $15. Tickets will be sold on a first come, first serve basis.
BU Student Government spokesperson Sydney Gullett wrote in an email SG expects a large number of tickets to be sold and hopes to sell out the concert.
Gullet wrote she anticipates students won't have an issue with the ticket price.
"I think students will appreciate the price of the tickets," she wrote, "because we did everything we could to keep the cost down."
SG President Devin Harvin said in an emailed statement the $15 price was meant to be welcoming to all BU students.
"We didn't want anyone left out because of financial reasons," Harvin said. "802.1 is for everyone. There will be more than 500 tickets sold on Friday."
Adam Hartog, a junior in the Questrom School of Business, said he expected the ticket price to be around $15.
"It's not crazy expensive, and I guess [Aminé is] famous enough to where they can charge a little more than nothing," Hartog said. "If I end up going, the price isn't going to be a deterrent."
Megan Romine, a freshman in the College of Communication, said she thinks the tickets are cheap and was expecting to have to pay more.
"I think [Aminé] was in the House of Blues recently, and his ticket prices were higher than that," Romine said. "It's a good price for a concert. I'm paying almost 200 bucks for Warped Tour."
Radha Rao, a Questrom sophomore, said while she thinks the price is reasonable, she recognizes that some students might be upset they have to pay for the concert at all.
"Typical spring concerts at colleges are funded on their own, and students aren't expected to pay anything," Rao said. "Personally, I think it's great that we got this opportunity for this artist to come."
Ryan Rothfuss, a junior in the College of Arts and Sciences, said he doesn't have an issue with the fee.
"I feel like that's a reasonable price," Rothfuss said. "You can't shell out 15 bucks for a concert? That's amazing, $15 for a concert."
Sophie Richards, a COM freshman, said she thought the price wasn't bad for people who are fans of Aminé.
"I feel like the concert only appeals to certain people," she said, "so people who really want to see Aminé are going to think that $15 is good for a concert of his."
Alex LaSalvia contributed reporting.