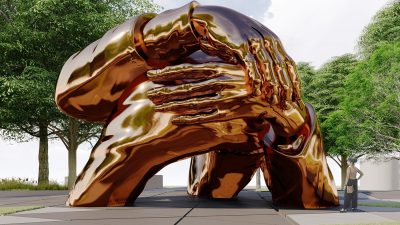 A 22-foot tall bronze statue titled "The Embrace" will be built on the Boston Common as a monument to Martin Luther King Jr. and Coretta Scott King. King Boston, a non-profit dedicated to preserving the King couple's legacy in Boston, announced "The Embrace" as the winning design Monday out of 126 submissions.
The statue was jointly designed by artist Hank Willis Thomas and the MASS Design Group. Boston University donated $250,000 to King Boston to build both the memorial and a planned "King Center for Economic Justice" in Roxbury, according to BU Today.
Paul English, founder and co-chair of King Boston, said he wanted the memorial to both educate its visitors on the Kings' history in Boston and provoke its viewers to think about the ways in which they can continue the couple's work in the city. 
"I want people to know the [Kings'] Boston story," English said. "And then the second thing is I want to challenge visitors to say, 'If the Kings were alive in 2019 and in Boston, what would they be working on?'"
The sculpture will be completed in 2020, taking an estimated 12–18 months to build, and will be built in conjunction with a planned renovation of the Boston Common by the City, according to English. It will cost an estimated $3–4 million.
Both Kings have a strong connection to Boston, English said, as they met while Martin Luther King Jr. was earning his doctorate in theology at Boston University's Graduate School of Arts and Sciences and Coretta Scott King was studying at the New England Conservatory.
English said the statue also stands as a monument to Martin Luther King Jr.'s commitment to the doctrine of love and the couple's undying love for each other.
"If you look at MLK's sermons, all of his work and his nonviolence work started with the concept of love," English said. "So 'The Embrace' is representing the two of them, … and then how that love can transcend and expand to more people."
Boston Mayor Martin Walsh said in a press release from King Boston he was proud that the design embodied the Kings' "spirit of love and compassion."
"This memorial will serve as a gathering space for people to come together to reflect on their remarkable impact on our society," Walsh said in the release, "while recommitting us to continue to fulfill their dream of equality for all each and every day."
English said he reached out to BU President Robert Brown when fundraising for the monument.
"I know [King] already has a memorial at the school, but we wanted to do something at a larger scale and in a location where a million people a year would experience it," English said. "I wanted to have BU involved, I wanted them at the table. BU was very kind to support us financially, and I'm excited about this support."
English said in order for King Boston to pick a winner, the designs went through three different decision processes: a public opinions phase, review of an art committee composed of distinguished artists, art scholars and Martin Luther King Jr. historians, and an economic feasibility and practicality analysis.
While the experts and the public often do not agree on a public art design, English said, this time, both the art committee and the public picked "The Embrace" as their favorite.
"I think the reason the [art committee] picked "The Embrace" was, one, they just thought it was beautiful and iconic, and they thought it would survive the test of time that would last for generations," English said. "They also liked that it explicitly referenced Martin and Coretta together, which is kind of the whole goal of the project."
Dakotah Hutkin, 23, of Brighton, said he thought the story and meaning behind the statue was "very sweet" and a "beautiful concept." He said he thought the sculpture was necessary in a city that did not have a reputation for racial equality.
"I think that will be good for Boston, because, if you know, Boston has a pretty good, well-known history of a lot of racism," Hutkin said, "and I think that will be a really good statement for Boston."
Brighton resident Cassie Daisy, 23, said she thought the chosen design was visually intriguing, as it was different from all the other statues in the Common. She said she thought there is a need to educate the people of Boston on the Kings' history with the city.
"Seeing something like that, I definitely would have walked up and touched it and looked at the plaque, learned about it," Daisy said, "so I definitely think it would accomplish that. I haven't seen anything around [about Martin Luther King Jr.], so I think the more they can do the better, the more educated we can be."
Jackie Riso, 29, of Brighton, said the statue's design made her think of "connection and acceptance," and she said she appreciated the message of love behind "The Embrace."
"I think the way the hands are holding each other definitely symbolizes love, and it's not a tight grip, it's not a business handshake, it's more of a comforting feel," Riso said. "So Boston and any city and any place in the world can always use that message of love. I think it's great."