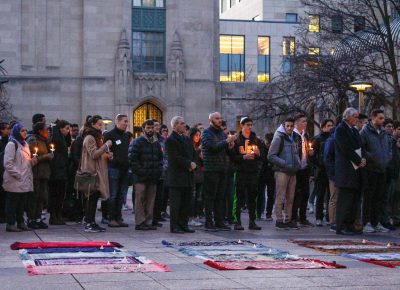 The Islamic Society of Boston University hosted a vigil on Marsh Plaza Monday night to reflect on last week's terror attacks on two mosques in Christchurch, New Zealand. More than 100 students and faculty members gathered to grieve and pray for the victims of the attacks.
Mehwish Khan, president of the BU Islamic Society and a senior in the Sargent College of Health and Rehabilitation Sciences, spoke at the vigil about her reaction to hearing the news of the attacks.
"The sound of peace was broken with bullets with the hatred of this world," Khan said.
Khan expressed her support for the victims of the attacks and spoke about the importance of spreading love rather than hate. She emphasized the need for people to stand together and stay united because terrorism "has no race or boundaries."
"Every hatred we spread has consequences," she said, "even when we are not the ones who put the finger on the trigger."
During the ceremony, 51 prayer mats were placed on the ground and adorned with candles to represent the 49 victims of the attack.
U.S. Sen. Ed Markey attended the vigil Monday night. Markey encouraged the crowd to welcome immigrants and minorities and said Massachusetts was an example of tolerance, diversity and progress.
"We believe in the freedom of speech, not hate speech," Markey said in his speech.
Other BU faculty and students who spoke at the vigil included Dean of Marsh Chapel Robert Allan Hill, BU Hillel Rabbi Elie Lehmann and acting ISBU chaplain Abubakr Fakhry.
Sophia Kuperman, a freshman at the College of General Studies who attended the vigil, said she believed everyone should support each other, regardless of race and religion.
"I'm Jewish, but I don't think there's a divide between Jewish people and Muslims," Kuperman said.
Chance Charley, a sophomore in CGS who also attended the vigil, said the attack was a tragedy, but that if young people come together to find solutions to issues of hatred, it is possible to find solutions.
"It's part of a larger trend," Charley said, "of white supremacy and of hatred toward refugees."