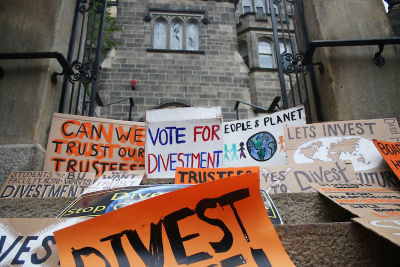 DivestBU submitted a proposal to the Board of Trustees' Advisory Committee on Socially Responsible Investing Tuesday, asking Boston University to fully divest from fossil fuels and reinvest into both a Green Economies Fund and a Social Impact Fund.
Five BU community members involved with DivestBU authored the proposal, which reads "BU should reconsider its 2016 divestment decision." The proposal said although BU committed in 2016 to avoid investing in companies that extract coal and tar sands, the university did not divest its holdings in fossil fuel companies.
DivestBU is asking students and community members to support the proposal, so they can "hold our university accountable" for its actions.
Masha Vernik, a senior in the College of Arts and Sciences and member of DivestBU, co-authored the proposal. Vernik said the proposal consists of three requests and is intended to emphasize the urgency of climate change.
"If BU wants to act in accordance with its own standards, then it must divest from fossil fuel use," Vernik said. "We've been using the slogan, 'The time is now,' to emphasize the scale of this crisis."
The proposal asks BU to fully divest its endowment from all fossil fuel companies that continue to explore for fossil fuel reserves, and use the divested funds to establish a Green Economies Fund. It also asks BU to take profits from the Green Economies Fund and reinvest it in a Social Impact fund to uplift local environmental justice communities.
DivestBU has been an active organization on campus for seven years, Vernik said, which she said was "a little too long" because they have been pushing for the same request the entire time.
The proposal's third request to reinvest profits into a Social Impact fund is important, Vernik said. This reinvestment would empower local environmental justice communities by investing in local businesses, affordable housing and community-owned energy projects.
"We also understand various impacts of climate change impact low-income communities the most," Vernik said, "which is why we are pushing for a social impact fund."
Shizheng Tie, a CAS sophomore who is also a member of DivestBU, said she joined the organization after learning about the large proportion of her tuition that goes to the funding of fossil fuels.
"I think [the proposal] is important because a lot of times the system is the problem," Tie said, "and we can achieve so much more revolutionizing the system rather than changing our own lifestyle, such as ditching plastic straws."