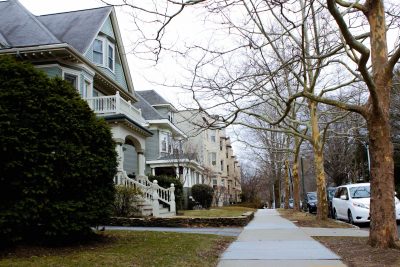 Boston City Councilors Josh Zakim and Michelle Wu proposed an ordinance Wednesday that would require landlords to distribute voter registration forms to tenants when they sign a lease.
The initiative looks to aid tenants in timely, accessible voter registration, Zakim explained during a City Council meeting Wednesday, because there is high apartment turnover often within a few weeks of city primary elections in September as new leases are signed on the first of the month.
Zakim said providing voter registration forms would be a "very minimal [burden] on landlords" who are already providing various information about city services and codes.
"I look forward to holding a hearing," Zakim said at the meeting, "to working with the Elections Department, [the Department of Neighborhood Development], others who will be involved, and the real estate community to figure out a way to do this."
According to the proposal, landlords of certain properties would be exempt. Exceptions include units in health facilities and rehabilitation centers, shared residences between landlords and tenants, and units "held in trust" on behalf of of a developmentally-disabled individual permanently living there, or owned by a family member of a developmentally-disabled individual.
Currently, residents can register to vote online, by mail or in person at Boston City Hall. The councilors' plan would deliver the necessary documents for registration directly to new residents.
"I think it's another tool in the tool box to continue increasing access to elections and civic engagement," Zakim said.
The regulation applies to properties rented for more than 30 days, excluding in-state landlords who possess three or fewer units. Landlords who violate the law would be fined $100, according to the draft.
The Department of Neighborhood Development and Election Department would be tasked with providing the documentation to owners who then supply it with the tenants' lease packages.
Seattle, Washington, and St. Paul, Minnesota have already implemented similar legislation, Zakim said. Numerous landlords in communities he represents, he said, practice this initiative on their own and visit City Hall in August to retrieve stacks of registration forms.
"I think it's simple approach that's really worked in other communities," Zakim said.
Wu proposed reprecincting legislation in 2017, which passed, with former District 2 Councilor Bill Linehan to create additional polling locations in Boston's six largest precincts and improve voter access.
During Wednesday's meeting, Wu commended Zakim's continued leadership on trying to "remove barriers to voter access" and "build a truly inclusive city."
"Boston has such a strong civic infrastructure," Wu said. "We have so many resources available to support residents and neighborhood groups and ways to get involved."
Oftentimes when she reached out to residents who were not originally from the area, Wu said, there was a gap that disconnected new occupants from political awareness and participation. Wu said she is looking forward to the process and implementation that will encourage voters to know who is on the ballot and what issues are on the ballot.
"This would be just one easy step to get people there even faster and encourage them to get involved," Wu said. "… And then plug into all of the other civic resources available, too."
William Chapman, 67, of Cambridge, said violations would be difficult to track and complicate the process.
"I mean the landlord could say he put it in the mailbox, so how would you track it back and say, 'Oh, I put it in the mailbox,'" Chapman said. "Well, the tenant never got it."
Chapman said this was the first time he has heard of the ordinance and that at first glance, it is sounds like a great idea.
"I mean, it's one thing to hand somebody a voter registration form, but it's another to actually make them go and register," Chapman said. "If they were to explain it, and of course the form would have to be multilingual, it's a start. It's a help."
Chapman said he believes there would not be any reason for opposition from both sides.
"I can't see why the tenants would push back," Chapman said. "They're simply being handed a form, but for landlords, there's just one more piece of work for them to do."
Kathryn Myer, 31, of Malden, said she thought the proposal would increase turnout at the polls but anticipates both landlords and tenants might object to the ordinance.
"I can imagine that landlords would absolutely not want this," Myer said. "This is more work for them, and if they don't do it, they'll get fined."
From the tenants' side, Myer said she can see people disliking the ideological premise.
"It can be seen as an impingement on autonomy, 'You're my landlord,'"  Myer said. "'I don't want you to be involved in my voting at all.'"
Jay Driscoll, 37, of Fenway, said he thinks the ordinance will have a positive impact by increasing access to voter registration.
"Not everybody who obviously lives in the city has a license" Driscoll said, "and [the Massachusetts Registry of Motor Vehicles is] pretty much where you would go to register."