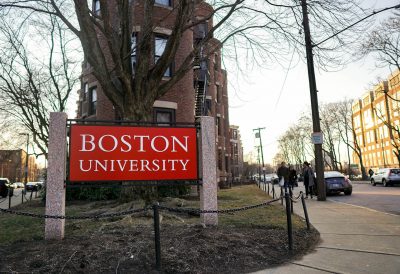 Boston University received a report claiming a student organization on campus subjected new members to various forms of hazing, including sleep deprivation, strenuous physical activity, physical abuse, yelling and running errands for current members.
The report, which was detailed in an email last Tuesday from Student Activities Office Director John Battaglino to student leaders, also stated the report claimed new members said they were not allowed to eat, wear certain colors or study for their classes.
The student organization accused of hazing was not named in the email.
"I'm sorry to share this troubling information with you upon your return from break," Battaglino wrote in the email. "As community leaders, let's take a moment to think about the ways we introduce new members into our organizations; how we create a sense of belonging; how we forge long-lasting healthy relationships with each other; and, how our clubs, teams, associations, and organizations contribute to the overall community."
According to the email, an investigation will be carried out "to discover and examine the facts of these allegations as well as the names of any involved students."
Battaglino declined to comment on the ongoing investigation into the report to The Daily Free Press.
"All I want is for all our students to be treated with respect and dignity," Battaglino wrote in the email sent to students. "If anyone tries to introduce behavior that would run counter to that goal, I hope we confidently and collectively confront them and say, 'we don't do that kind of stuff around here – we're better than that.'"