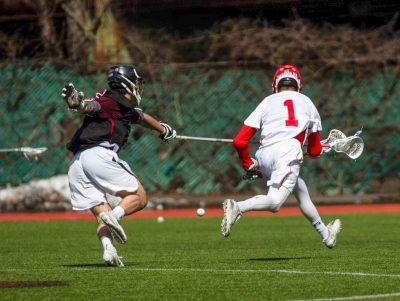 After a win against Lafayette University last weekend, the Boston University men's lacrosse team will travel to Bethlehem, Pennsylvania, to face No. 15 Lehigh University Saturday afternoon.
The Mountain Hawks (6-3, 4-0 Patriot League) are currently in sole possession of first place in the Patriot League and are on a five-game winning streak. BU (7-3, 2-1 Patriot League) sits in fourth in the standings.
The beginning of this streak dates back to a Patriot League game on March 2 against Colgate University (3-5, 1-2 Patriot League). Since that win, Lehigh has rolled past No. 16 Army West Point (7-2, 3-1 Patriot League), Rutgers University (5-4, 0-0 Big Ten), Lafayette University (4-6, 0-4 Patriot League) and the United States Naval Academy (4-4, 2-2 Patriot League).
The Terriers have not had success against the Mountain Hawks in past seasons. Last year, the Terriers gave up their lead in the fourth quarter at Nickerson Field against Lehigh and were narrowly edged by a score of 7-6. In 2017, BU lost by four to Lehigh on an away game in Bethlehem.
Given this history, BU head coach Ryan Polley said he knows the upcoming matchup will be against a worthy opponent.
"It's going to be a war," Polley said. "We know exactly what to expect. They're a great team and a great program."
BU will travel to Pennsylvania fresh off of a 17-9 rout of Lafayette. An eight-save performance from junior goalkeeper Joe McSorley and a 6-0 run in the second quarter allowed the Terriers to keep the Leopards at bay.
McSorley said both the defense and the offense were able to assist him in his eight-save afternoon, particularly in allowing less than 10 goals in the game.
"Any time you give up below 10 goals in a Patriot Leauge," he said, "it's awesome."
Additionally, sophomore midfielder Sean Christman won 23 of the 26 faceoffs throughout the game, notching a career-high for the Pennsylvania native.
This edge allowed the Terriers' defense to both limit the time Lafayette possessed the ball and give the BU offense chances to fire more shots at the Leopard goal. BU led Lafayette in shots 41-28 on the day.
Maintaining this strong defensive performance will be vital against Lehigh. The Mountain Hawks are second in the Patriot Leauge in goals scored per game and have scored 10 points or more in every one of their last five wins.
Mountain Hawk midfielder Alexander Tumminello and attack Lucas Spence led the offensive charge for Lehigh, with Tumminello having tallied 18 goals this season and Spence putting up 17. Spence leads the team in points with 31 and is fourth in the Patriot Leauge for goals and assists per game.
In his last two meetings with the Terriers, Spence has scored once and gone on the assist twice.
Lehigh's most recent game, which was against Navy, saw the Mountain Hawks down 4-6 early in the third quarter. The No. 15 side escaped a first half slump and scored 11 of the final 13 goals in the game to grab a 15-8 win against the Mids.
Highlighting this surge was three goals from Spence and two goals from Tumminello.
With BU's remaining schedule all in the Patriot Leauge, Polley said he is preparing the team for a long stretch of conference play.
"The gauntlet of the Patriot Leauge season [is] coming up," he said. "I told the guys to enjoy this [Lafayette] win — every Patriot Leauge win is a huge win."